UPDATE: Time Shelter won the 2023 International Booker Prize.
The International Booker Prize longlist is here, and it includes not one, but TWO writers we're featuring in the April Book Box. Ukrainian writer Andrey Kurkov, whose Diary of an Invasion is the fixed book in the book box, has been nominated for Jimi Hendrix Live in Lviv, translated by Reuben Woolley. Bulgarian writer Georgi Gospodinov has been nominated for Time Shelter, translated by Angela Rodel, which is Choice 1 for the April Book Box. We've featured writers who have gone on to win the Nobel Prize in our boxes, and we're stoked that we've been able to predict some potential International Booker Prize winners as well!
Another writer we're delighted to see on the longlist is Indian writer Perumal Murugan, who has been nominated for Pyre, translated by Aniruddhan Vasudevan. He has the honor of being the first Tamil writer to be longlisted for the International Booker, though his journey to this point has by no means been easy. In 2015, Murugan had declared the writer in him was dead in a literary obituary and withdrawn copies of all his books from sale after protests erupted over his novel One Part Woman (Mathorubhagan in the original Tamil). We are planning to feature his work in one of our upcoming book boxes!
For now, though, we want to talk about the two International Booker Prize longlisted authors who we're featuring in our latest book box.
We had no doubts about featuring Andrey Kurkov, whom The New York Times calls "Ukraine's greatest novelist", in our April Book Box. The problem arose when it came to picking only one book that we wanted to showcase. Grey Bees and Death and the Penguin were strong contenders, but we finally decided on Diary of an Invasion, a collection of his writings and broadcasts from Kyiv. Kurkov, who writes in Russian, is understandably banned in Russia. In Ukraine, he has emerged as one of – if not the most – prominent voices speaking against the Russian invasion of his country. Diary of an Invasion is reporting from the forefront of the war. Being a writer who has spent years carefully detailing in his works of fiction how ordinary people are affected by wars waged by those above them, Kurkov cannot help but extend this keen sense of observation and profound empathy to his reportage. The book begins in December 2021, when Ukrainians, like the rest of the world, were dealing with the onset of Omicron. Kurkov finds solace in the fact that nations are facing the same problem, for "Common values and enemies are the best weapons against geopolitical loneliness." However, the mood and the sense of belonging to a group and fighting for a common cause diminishes, as Ukraine is targeted by an invasion by Russian forces under Vladimir Putin.
The war continues today, and the people of Ukraine are still trying to survive in a country under attack. When the invasion began, there was an outpouring of support, and billions were pledged and given to Ukraine to fight for their country. As the war drags on, however, it is only natural that it slips from the minds of the rest of the world, even if the present reality isn't much better for Ukrainians. We chose to feature Diary of an Invasion because there is something unique and powerful about a writer of fiction using their prowess and experience to write about what is going on in our world. Kurkov is by no means a distant or disinterested observer. As a writer, similar to the role of public intellectual he has adopted out of necessity, is passionate, intensely personal, and perfectly articulate. Diary of an Invasion is a book we must read to understand the impact of the war on ordinary people. We're proud to feature such a timely – and timeless – book in our Book Box. The optimism that Kurkov has for Ukraine makes it a heartwarming and enlightening read, in spite of the dark reality it unflinchingly portrays:
"A dramatic experience makes for a dramatic perception of the future. But, as if by some divine joke, in the Ukrainian national character, unlike in the Russian one, there is no fatalism. Ukrainians almost never get depressed. They are programmed for victory, for happiness, for survival in difficult circumstances, as well as for the love of life."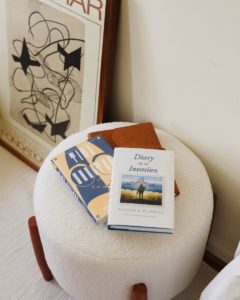 Georgi Gospodinov's Time Shelter deals with similar themes, although the novel differs vastly from Kurkov's work. A therapist, Gaustine, founds a clinic that treats patients with Alzheimer's by recreating past events in which they felt most secure. However, as The Guardian points out:
"The clinic is not just a place where Gaustine treats patients; it is also the perfect conceit for Gospodinov's narrator to explore the 20th century in Europe through the vanishing points of traumatised or broken individuals. It's as if Oliver Sacks and WG Sebald had collaborated on a Europe-wide chain of treatment centres"
It is almost impossible to describe Time Shelter without ruining some of its surprises. Your expectations are constantly subverted and things are not what they seem (or are exactly what they seem but this is too painful to believe) in this utterly original work. Darkly humorous, unpretentiously intellectual, and filled with great warmth, the novel is an EXPERIENCE, from its first page, which starts with this disclaimer:
All real persons in this novel are fictional,

only the fictional are real.
In the end, as happy as we are about books in our boxes being nominated for international prizes and gaining an international platform, we don't expect all – or even most – of our books to win Bookers and Nobels. However, we firmly believe that all the books we feature are deserving of many more readers (and all the awards). We hope that by featuring these books, especially works which may have slipped through the cracks and escaped popular attention, we're able to introduce readers to some truly great and unforgettable works, much like Time Shelter and Diary of an Invasion.