I've been living in Zain Khalid's world for the past few days. My heart still aches and my thoughts keep drifting towards his utterly original and wildly creative debut novel. Brother Alive is one of those books that grabs you from the first page and refuses to let go even after you've read the last sentence, much like Brother in Youssef's life. It's a book that reminds you that reading is one of the greatest pleasures of life.
Brother Alive is an ambitious novel, almost audaciously so for a debut. The book is divided into four sections, all different in style and form, but each carefully detailed and equally devastating. Khalid talks about the structure in an interview for BOMB Magazine:
"I wanted to chart a narrative that would take in the bildungsroman, the epistolary novel, the systems novel, and literary doubles. I wanted to chain these things together. That sounds like a typical first novel problem, but in my head it made sense."
The premise is intriguing: we're introduced to three boys who share a bedroom atop a mosque in Staten Island. The boys are not related to each other: Dayo has Nigerian roots, Iseul is Korean, and Youssef, "indeterminately Middle Eastern". But their lives have been inextricably intertwined since birth. The brothers are raised by Imam Salim, who preaches in the mosque by day and spends the evenings in his study, drinking, reading, and writing.
The brothers grow up in a world of secrets. They are inseparable and devoted to each other, but each deals with the pain of not knowing their family, not even where they are from, differently. Youssef keeps a secret from his brothers: he has a hallucinating double who shapeshifts into the ghosts of Youssef's emotions and feeds on his memories. Youssef calls this familiar "Brother", and in his lonely, often painful, existence, Brother offers him some respite. Imam Salim keeps more than one truth hidden from the boys: how he adopted them, who their parents were, and why he is increasingly ill. Throughout the novel, the people surrounding the boys constantly lie to them or seem to know more than they do of their histories. They grow up feeling disconnected and isolated, and all three look for answers in their own ways. Dayo chases wealth and operates with a cool rationality; Iseul turns to sport and making a family of his own, and Youssef turns to literature and the arts.
Zain Khalid explains to Michael Barron:
"None of the brothers are under biological authority. They don't have parents, and the imam that shelters them refuses to be one. This robs them of a common idea of family and coming of age, and the people who instead enter their lives are committed, sometimes radically, to forms that eschew historical and traditional constructs for self-preservation and progression at all costs."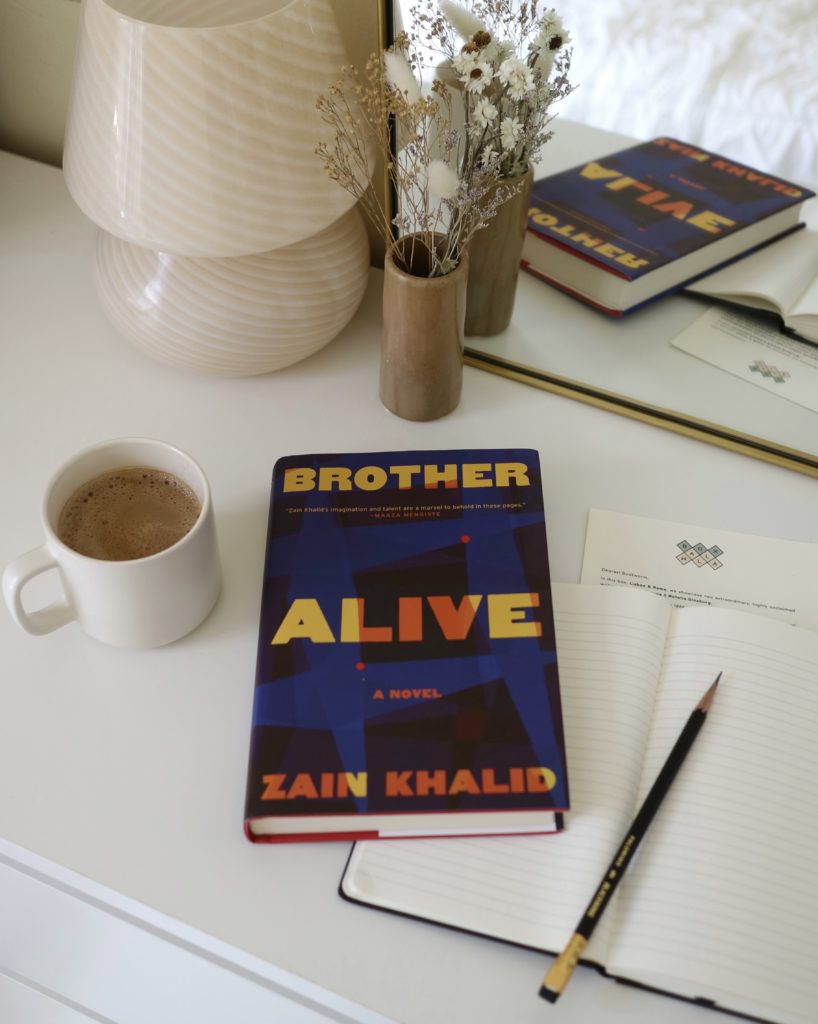 However when Imam Salim's health starts to rapidly deteriorate, secrets are spilled. And when he leaves for Saudi Arabia, leaving behind a long letter explaining what happened to their parents, the brothers are compelled to follow him. In Saudi they are brought to HADITH, a futuristic and aspirational sustainable city which dreams of becoming the next New York. Here, religion and capitalism have created an utopia that seems to offer a life of equality, for those who can afford it. HADITH's origins, however, are murky and inseparable from the brothers' own.
The world Zain Khalid creates is peppered with unusual details, grand plotlines, and strong characters. His magical, poetic prose grabs you by the shoulders and plunges you into a terrifying, heartbreaking world that you do not want to leave. There are many themes explored in this ambitious work – family, identity, race, queerness, friendship – but everything is subsumed under the twin forces that mercilessly rule over every event in the book: capitalism and religion. Their forces are all-encompassing and brutal. As a review in Toronto Star said of religion in the book (which, I think, also applies to Khalid's depiction of capitalism):
Khalid brings an interesting lens to how people wear being Muslim: for comfort, for access, for power. He also explores how the prescriptiveness of religion diminishes self-acceptance — Youssef discovers Imam Salim's hidden sexuality while discovering his own queer identity. Salim asks at one point: "Why do we need so much forgiveness?"
The boys seek answers but those who hold the truth reveal it only when they want to. In this world, Brother's endless avatars and distracting antics are almost a comfort, a temporary escape from the unforgiving glare of power.
And now Brother Alive lingers in my life like one of Brother's friendly apparitions, ever ready to jump from the corners. I cannot extricate my thoughts from this book, nor do I want to. It's always a privilege to read something that changes how you think of writing, of pain, of the world. Zain Khalid's debut novel is an absolutely original masterpiece that I cannot forget.
Note: Boxwalla featured Brother Alive in the first installment of the American Fiction Series: On Becoming an American Writer by Alexander Chee. It is available until stocks last as a limited edition, one-time box.
from Rosemary's desk
Rosemary is the content and marketing editor at Boxwalla, with years of experience as an editor at a prominent publishing house in India. She devours books and has opinions (loves Dostoyevsky, hates Joyce) and has recently fallen in love with skincare as well!