2 cycles (4 months) of Film Boxes
March 20, 2021
2 cycles (4 months) of Film Boxes
$49.95 $
Subscribers Save 15% In Our Retail Shops Every Day!
"Art Cinema is Boring". The Film Box challenges this notion by demystifying the work of the best filmmakers, by creating a context within which to view them.
Each Box will contain films from the Criterion Collection, along with inserts with detailed information on each film. Blurays only.
If you are looking for the PERFECT gift for the film enthusiast, or somebody interested in learning more about film, you have reached the right place!
This is a listing for 2 Film Boxes delivered bimonthly as a one-time non-renewing purchase. The price is 49.95$/box.
Starts with the current box, if available. When sold out, starts with the next available box.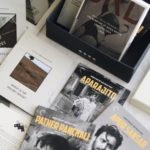 2 cycles (4 months) of Film Boxes