Elastic Love Firming Face + Neck Oil
May 25, 2022
LEPAAR
Elastic Love Firming Face + Neck Oil
$63.00 $
Free U.S. Shipping, No MinimumSubscribers Save 15% In Our Retail Shops Every Day!
Lepaar Elastic Love Firming Face + Neck Oil
What is it? A bright and light serum that rapidly tightens the skin, powers up tensile strength, and bestows buoyant resilience.
Notes from the Curator: Part of our Lockdown-conceived KAIROS TIME CAPSULE, this composition is reminder of the infinite elasticity between people near and far. Of love's resilience and beauty in the face of separation, loss and time. It is an invitation to travel with me through time and space: from our garden in Kangaroo Valley where the Kangaroo Paw Flower, Artichoke, Red Clover and Quince grow, to the European Summer gardens of my childhood picking Black currants and Blackberries, and on to places I long to go. Time is elastic.
Let's Get Nerdy: For women and men of all skin types. Especially benefits mature, sagging, tired, collagen depleted skin. Helps to firm and and restore elasticity, replenish linoleic acid and strengthen connective tissue, improve skin thickness and balance the skins metabolic cycle, increase collagen production and harmonize hormones.
Size: 15ml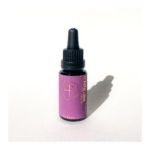 Elastic Love Firming Face + Neck Oil