Transforming Eye Balm – Decongesting Elasticity Boost
May 25, 2022
LEPAAR
Transforming Eye Balm – Decongesting Elasticity Boost
$48.00 $
What is it? A skin transforming, ultra soft balm, composed to restore and relax the delicate tissue around our eyes, smooth fine lines, reduce puffiness and dark circles.
Notes from the Curator: This has a warm, soul soothing honey and milk with herbaceous allure of gentle chamomile, summer meadow arnica and an ever so faint hint of sweet, congestion-relieving fennel.
Let's get Nerdy: For women and men of all skin types. Especially benefits mature, tired, dark circle-prone skin. All ages. Energetically, micro-dosed essential oils of Frankincense and Myrrh improve insight, enhance vision + gift clarity.
Size: 10ml
About the Brand

Johanna and Christo Everingham bring their strengths & unique world views together, to create exquisite things for their brand Lepaar. They believe in 'wholistic luxury', in creating modern classics, in crafting things that are 'alive', pulsating with stories of people and places. ​Introduced to organic cosmetic crafting by her alchemist mother, Johanna has been making her own skincare compositions for over 20 years. Christo's interest has been in the exploration of culture - his wanderings have been an exploration of the spirit in all things.

How to Use

Gently massage a fingertip 'smear' around your eyes at night after cleansing. You'll need very little.

Can be used as an intensive eye mask – leave on for 10-15 minutes, wipe of with damp cloth. You may feel a slight tingling around your eyes for a brief moment when the composition's tightening properties start working.

Ingredients

ENERGISING FOUNDATION
CALENDULA OFFICINALIS (CALENDULA) FLOWER EXTRACT* Tasmania Australia. MATRICARIA RECUTITA FLOWER (CHAMOMILE) FLOWER EXTRACT* Tasmania Australia. ALTHAEA OFFICINALIS (MARSHMALLOW) ROOT EXTRACT* 

BALANCING CENTER
ARNICA MONTANA (ARNICA) FLOWER EXTRACT* USA. CERA ALBA (BEESWAX)^ Blue Mountains Australia. SESAMUM INDICUM (SESAME) SEED OIL* India. PLANTAGO LANCEOLATA (NARROW LEAF PLANTAIN) LEAF EXTRACT^ Kangaroo Valley Australia. FOENICULUM VULGARE (FENNEL) SEED EXTRACT* Tasmania Australia. Tasmania Australia. SANTALUM SPICATUM (SANDALWOOD) SEED OIL^ Australia. SANTALUM SPICATUM (SANDALWOOD) WOOD EXTRACT^ Australia. VANILLA PLANIFOLIA (VANILLA) FRUIT EXTRACT* Daintree Rainforest Australia. CROCUS SATIVUS (SAFFRON) STIGMA EXTRACT* Tasmania Australia. MEL (RAW HONEY)^ Blue Mountains Australia.

HARMONISING CHARGE
FRANKINCENSE EXTRACT: BOSWELLIA FREREANA RESIN^ Somalia / BOSWELLIA SACRA RESIN^ Oman. MYRRH EXTRACT: COMMIPHORA MYRRHA RESIN^ Somalia / COMMIPHORA WILDII ('OMUMBIRI') RESIN^ Namibia. FRANKINCENSE ESSENTIAL OIL: BOSWELLIA FREREANA* Somalia / BOSWELLIA SACRA^ Oman / BOSWELLIA CARTERI* Somalia. MYRRH ESSENTIAL OIL: COMMIPHORA MYRRHA* Somalia /COMMIPHORA WILDII ('OMUMBIRI')^ Namibia. 24 KARAT GOLD" Germany.

Essential oils are steam distilled and naturally contain Limonene, Linalool. *Certified organic **certified Demeter biodynamic ^wildcrafted "non-nano/cert cosmetic. Extracts are sun-infused for a minimum of 4 months in Demeter certified biodynamic olive oil. Botanicals are hand picked, air dried or sun cured. Resins are fair trade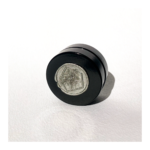 Transforming Eye Balm - Decongesting Elasticity Boost