Feb 2022 Book Box 2: Olga Tokarczuk + Suat Dervis
February 27, 2022
Feb 2022 Book Box 2: Olga Tokarczuk + Suat Dervis
$29.95 $
The February Book Box 2 contains The Books of Jacob by Olga Tokarczuk and In the Shadow of the Yali by Suat Dervis!
Description Of The Books of Jacob
The Nobel Prize–winner's richest, most sweeping and ambitious novel yet follows the comet-like rise and fall of a mysterious, messianic religious leader as he blazes his way across eighteenth-century Europe.
Description Of In the Shadow of the Yali
Set in a changing Istanbul, this rediscovered 1940s classic from a pioneering Turkish author tells the story of a forbidden love and its consequences.
Out of stock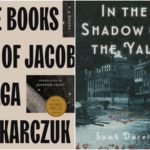 Feb 2022 Book Box 2: Olga Tokarczuk + Suat Dervis