Feb 2022 Book Box 3: Olga Tokarczuk + Rainer Maria Rilke
February 27, 2022
Feb 2022 Book Box 3: Olga Tokarczuk + Rainer Maria Rilke
$29.95 $
The February Book Box 3 contains The Books of Jacob by Olga Tokarczuk and Duino Elegies by Rainer Maria Rilke!
Description Of The Books of Jacob
The Nobel Prize–winner's richest, most sweeping and ambitious novel yet follows the comet-like rise and fall of a mysterious, messianic religious leader as he blazes his way across eighteenth-century Europe.
Description Of Duino Elegies
The first-ever English translation of Rilke's landmark poetry cycle, by Vita and Edward Sackville-West ­– reissued for the first time in 90 years!
Out of stock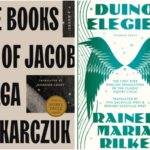 Feb 2022 Book Box 3: Olga Tokarczuk + Rainer Maria Rilke