Movie Subscription Box – Infernal Affairs Trilogy Criterion Collection In Blu Ray
October 22, 2021
Movie Subscription Box – Infernal Affairs Trilogy Criterion Collection In Blu Ray
$49.95 $
Our film subscription boxes bring the excitement of art cinema to your home. Films from The Criterion Collection include influential classic films and modern cinema from around the globe. Each movie subscription box contains 2(sometimes 3) movies from The Criterion Collection in Blu Ray!
October Movie Subscription Box contains The Infernal Affairs Trilogy! The official release date for this set is November 15th 2022 but if you purchase our movie subscription box you will receive it in October before everyone else! 
This box will ship at the end of October!
The Infernal Affairs Trilogy From Criterion Collection
The Hong Kong crime drama was jolted to new life with the release of the Infernal Affairs trilogy, a bracing, explosively stylish critical and commercial triumph that introduced a dazzling level of narrative and thematic complexity to the genre with its gripping saga of two rival moles—played by superstars Tony Leung Chiu-wai and Andy Lau Tak-wah—who navigate slippery moral choices as they move between the intersecting territories of Hong Kong's police force and its criminal underworld. Set during the uncertainty of the city-state's handover from Britain to China and steeped in Buddhist philosophy, these ingeniously crafted tales of self-deception and betrayal mirror Hong Kong's own fractured identity and the psychic schisms of life in a postcolonial purgatory.
Films In This Set (Please see below for details about each movie)
Infernal Affairs
Infernal Affairs II
Infernal Affairs III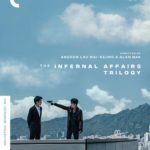 Movie Subscription Box - Infernal Affairs Trilogy Criterion Collection In Blu Ray