Skincare Subscription Box
February 22, 2021
Skincare Subscription Box
$59.95 $
Subscribers Save 15% In Our Retail Shops Every Day!
The Skincare Subscription Box from Boxwalla is the best beauty box subscription curated for the luxury-loving skincare enthusiast. In our skincare subscription boxes, you will discover the most effective & innovative plant-based beauty products that redefine luxury skincare. By showcasing not only the benefits of each product we feature but also demonstrating how they can be incorporated into your skincare routine, we help you figure out how to take care of your unique skin needs. Intrigued? Subscribe to our Beauty subscription box below.
December Subscriptions are now Open.
✨December Beauty Box✨
.
We are rounding off this year's Skincare Boxes with such a special box created in collaboration with the wonderful Renée @gothamista!
.
This box has been such a long time coming- Renée & I have been talking about it for 3 years, I think. And it's finally here!!! In the form of the most exquisite Winter Luxuries that you can treat your skin to. ✨❄️
.
The December box features:-
– Saro de Rúe x Gothamista Essence – $68
– WYLYS Double Rose Luminizer – $188
– Gothamista x Pink Moon Jade Gua Sha – $36
December Beauty Box Retail Value is $296! 
*This is a bimonthly Subscription* You will be charged immediately when you purchase. Automatic renewal occurs every two months until you cancel. Make sure to cancel before the 15th of the preceding month to not get billed!
We also have 3 skincare boxes (over 6 months) and 6 skincare boxes (over a year) options available for $49.95 per box! Check out these options here.
For limited time only get Lovinah Ocean Rituals AHA & BHA Exfoliating Cleansing Balm ($45) free with purchase of 6 cycles (1 year) of prepaid beauty boxes! The cleansing balm will be shipped together with your December box!
*Excluded from all coupon codes
The first batch of December Boxes are sold out!! We are currently working very hard to make a second round of boxes. This is a preorder for this second batch. Please Note: since it will take some time to receive the second round of products, we cannot guarantee that the second batch of boxes will reach by the holidays. The earliest that it will ship is December 15. Once the order is placed no cancellations are allowed!
Out of stock
Join The Waitlist
We will inform you when the product is back in stock. Please leave your valid email address below.
Description

Skincare Subscription Box is the best beauty box subscription for the luxury-loving skincare nerd. Discover beautiful, artisanal plant-based skincare through our bimonthly beauty subscription box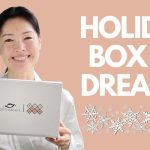 Skincare Subscription Box
Out of stock
Join The Waitlist
We will inform you when the product is back in stock. Please leave your valid email address below.