Lavender Mint Lip Exfoliator
February 17, 2021
HENNé ORGANICS
Lavender Mint Lip Exfoliator
$24.00 $
Subscribers Save 15% In Our Retail Shops Every Day!
What is it? Lavender Mint Lip Exfoliator is a gentle lip scrub that is a delight for all the senses.
Notes from the Curator: Delicate sugar crystals gently scrub your lips as fresh & soothing
scents emanate. It is an invigorating experience for the senses.
Let's Get Nerdy: It has the soothing elements of Lavender & the freshness of Peppermint.
Size: 0.43 oz / 12 g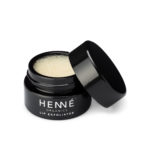 Lavender Mint Lip Exfoliator