Luna Biofermented Red Wine Mask
February 17, 2021
NATURALLOGIC
Luna Biofermented Red Wine Mask
$78.00 $
What is it? Luna is seasonal limited edition biofermented red wine mask which
instantly imparts moisture balance and antioxidant nourishment, delivering intense hydration and luminosity, evening skin tone, and boosting natural radiance, while strengthening skin's barrier and protecting against water loss.
Notes from the Curator: The mask is created using in-house red wine that takes half a year to produce and harvest. Over the course of several lunar cycles, the enzyme and probiotic-rich grapes ferment, settle beneath the wine and are harvested at each new moon.
Let's Get Nerdy: Did you know Red Wine is rich in naturally occurring AHA's, Polyphenols, Resveratrol, and Gluconic Acid, stimulating collagen + elastin restoration, hydrating, brightening and evening skin tone, smoothing texture, and mitigating free radical activity. Once applied on the skin, the mask invigorates your senses, naturally occurring probiotics and fruit enzymes, antioxidants and brightening compounds, go to work cleansing pores, neutralizing free radicals, smoothing and refining, breathing new life and vitality into skin!
This mask is available as a part of June Subscription Box here
Out of stock
About the Brand

Naturallogic was created by Toni Ann Brandon, who is a trained nutritionist and herbalist. She crafts fresh, vibrant skincare using incredible in-house biofermentations, extracts and oil infusions.

How to Use

Apply a generous, even layer of mask to freshly cleansed, lightly padded dry skin and allow to penetrate for 30-60 minutes.
​Rinse well. For more moisturized skin, rinse with warm water and lightly pat dry. For less moisturized skin, remove with warm water and cloth.

Ingredients

Made with our in-house crafted red wine, hyaluronic acid, raw local honey,
​raw cacao, strawberry, raspberry, macadamia, rosehips, jasmine, honeysuckle and vanilla.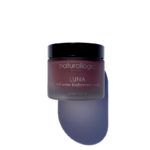 Luna Biofermented Red Wine Mask