Revive Deep Cleansing Oil
September 17, 2021
LEPAAR
Revive Deep Cleansing Oil
$55.00 $
What is it? A supremely gentle, non-comedogenic, purifying night time skin cleansing oil.
Notes from the Curator: Revive is very balanced like yin and yang, masculine, feminine. Refreshing, yet soothing. Like moss-cushioned walk through deep breathing, deeply calming spring forest. It is suitable for all skin types especially benefits acne prone, irritated, sun-exposed and city pollution-loaded skin.
Let's Get Nerdy: Formulated with powerful sun-infused botanical extracts and oils rich in detoxifying, exfoliating and pore-clearing properties to reveal clear, fresh and renewed skin while also dealing with breakouts + acne, black heads and broken capillaries.
Size: 100ml
About the Brand

Johanna and Christo Everingham bring their strengths & unique world views together, to create exquisite things for their brand Lepaar. They believe in 'wholistic luxury', in creating modern classics, in crafting things that are 'alive', pulsating with stories of people and places. ​Introduced to organic cosmetic crafting by her alchemist mother, Johanna has been making her own skincare compositions for over 20 years. Christo's interest has been in the exploration of culture - his wanderings have been an exploration of the spirit in all things.

How to Use

Best to use at nighttime. Wash or spritz your face with warm water (purified is best), and massage a little amount all over your face. Take of with a warm damp muslin or washcloth.

Ingredients

PRUNUS ARMENIACA (APRICOT) KERNEL OIL* Australia.

FICUS CARICA (FIG) LEAF EXTRACT^ Kangaroo Valley Australia

IN OLEA EUROPAEA (OLIVE) OIL** Victoria Australia

BALANCING CENTER

CANNABIS SATIVA (HEMP) SEED OIL* Australia

SALIX NIGRA (BLACK WILLOWBARK) BARK EXTRACT*USA

ACACIA DEALBATA (MIMOSA/AUSTRALIAN SILVER WATTLE) FLOWER/LEAF/BARK EXTRACT^ Kangaroo Valley Australia

SCROPHULARIA CANINA (FIGWORT) LEAF EXTRACT* Tasmania Australia

TARAXACUM OFFICINALE (DANDELION) LEAF EXTRACT* Tasmania Australia

FILIPENDULA ULMARIA (MEADOWSWEET) LEAF EXTRACT* Tasmania Australia

PELARGONIUM GRAVEOLENS (GERANIUM) LEAF EXTRACT^ Kangaroo Valley Australia

CROCUS SATIVUS (SAFFRON) STIGMA EXTRACT** Tasmania New Zealand

HARMONISING CHARGE 'SACRED TRINITY BLEND'

FRANKINCENSE EXTRACT: BOSWELLIA FREREANA RESIN^ Somalia / BOSWELLIA SACRA RESIN^ Oman

MYRRH EXTRACT: COMMIPHORA MYRRHA RESIN^ Somalia / COMMIPHORA WILDII ('OMUMBIRI') RESIN^ Namibia

FRANKINCENSE ESSENTIAL OIL: BOSWELLIA FREREANA* Somalia / BOSWELLIA SACRA^ Oman / BOSWELLIA CARTERI* Somalia

MYRRH ESSENTIAL OIL: COMMIPHORA MYRRHA* Somalia /COMMIPHORA WILDII ('OMUMBIRI')^ Namibia

PELARGONIUM GRAVEOLENS (GERANIUM) ESSENTIAL OIL* South Africa

24 KARAT GOLD" Germany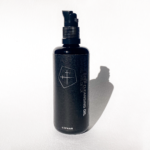 Revive Deep Cleansing Oil