Super Lucky 2023 Black Eyed Pea
October 16, 2022
RANCHO GORDO
Super Lucky 2023 Black Eyed Pea
$9.99 $
Free U.S. Shipping, No MinimumSubscribers Save 15% In Our Retail Shops Every Day!
Rancho Gordo Black Eyed Peas
Black Eyed Peas are believed to be native to Africa. They became an important food source in the American South sometime during the 17th or 18th centuries and at some point, they became a traditional good luck meal on New Year's Day.
Whether you are a traditionalist and insist on a ham hock or a modern hipster cooking with just some aromatics and sea salt, eating Black Eyed Peas on the first day of the year is one of the best gifts of the south. And frankly, this country can use a little luck this year!
Cooking Suggestions: Soups, stews, salads, Hoppin' John
Size: 1 Lb Bag
ABOUT THE BRAND

Rancho Gordo was founded by Steven Sando.

HOW TO USE

Check peas for debris, and rinse thoroughly. In a large pot, sauté aromatic vegetables (onions, garlic, celery, carrot, etc.) in olive oil. Add peas and enough water to cover by about 2 inches. Bring to a full boil for 10 to 15 minutes. Reduce heat to a gentle simmer, using a lid to help regulate the heat, and gently cook until done, 30 to 90 minutes. Salt when the peas start to soften. A pre-soak of 2 to 4 hours will lessen the cooking time.

INGREDIENTS

Rancho Gordo Super Lucky 2023 Black Eyed Pea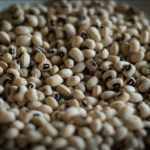 Super Lucky 2023 Black Eyed Pea