The April Beauty Box, evocative of Spring, is themed, 'The Radiant Charm of the Glasswing Butterfly',
Below is the April Beauty Poem.
My father once gifted me
Bertrand Russell's Liberal Decalogue
like a talisman when I left home,
And every time I look at my wall, it tells me
"Don't be absolutely certain of anything", and usually,
I'm not. But today, I am certain, of this
feeling, a catch in my throat that is despair.
A historian will tell you not to forget history
Lest it repeats itself, but a poet will remind you
That you will.

I have begun to collect talismans
Combing through plant lore to find
Charms that protect, words that repair
Mortar-like ceramides to
Hold everything together,
Nouns, herbs, life.

I soothe myself with the
arcane wisdom spoken anew,
Through the milky glass wing
of a butterfly.
Like a memory of something. Something Radiant.

Somebody told me there are ways
to gently remove the thorns,
to peel the shadows
From the light,
To carefully Reveal the scope,
of that elusive
Radiance of hope.
I'm waiting.
The three products, in the April Beauty Box, are a tribute to Spring with renewal & rejuvenation, complemented by soothing, calming barrier support.
ARCANA Glasswing Immersive Ceramide Milk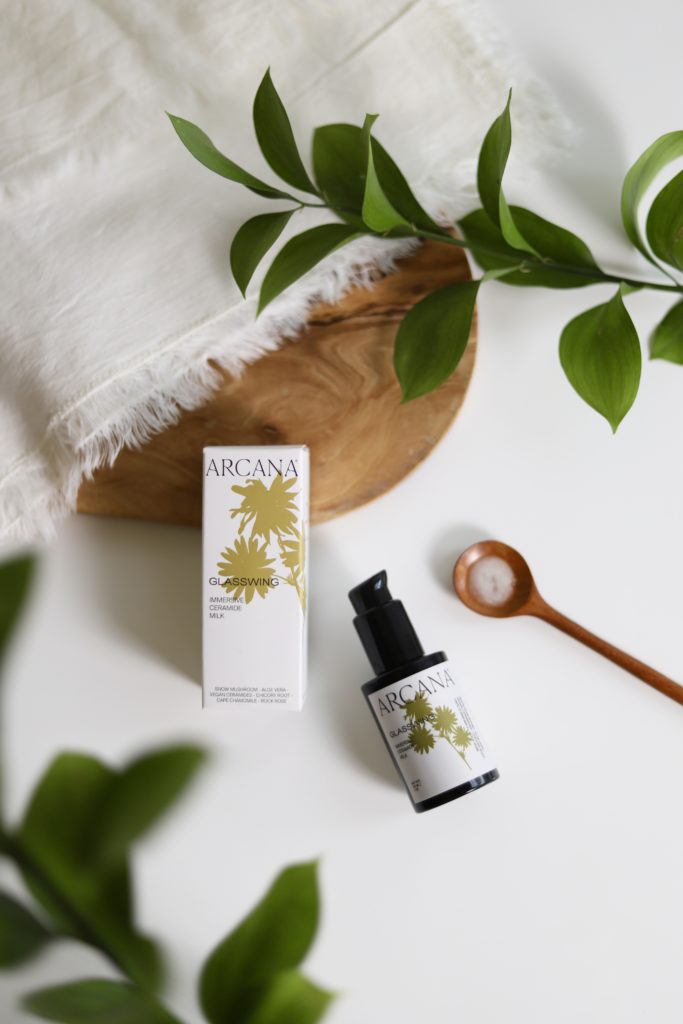 Arcana was created by Erin Hammond, who is an architectural historian (she is currently finishing her Ph.D. in Architectural History), with a deep passion for herbalism. She likes to formulate with plant ingredients from her immediate environment so as to have a fuller & more complete relationship with the plants that she works with. She views skincare not just as a 'fix' to a problem but as a way to take care of one's body, aiming to imbue and layer that ritual with meaning and emotion. I remember, when I first encountered Arcana & read her words "I've personally never been interested much in human beauty, or the idea of making ourselves more beautiful, which might seem strange for someone who formulated skincare", I thought to myself, 'Ah! Here's a kindred spirit."
So, let's talk about this beautiful new launch from Arcana—the impossibly light, translucent Glasswing Ceramide serum! Ceramides are lipids in the epidermis that are incredibly important for skin barrier function. The stratum corneum (the outermost layer of the skin) has lamellar sheets in the intercellular spaces that are thought to provide the barrier property of the epidermis. Ceramides are a very important constituent of these lamellar sheets, playing an essential role in maintaining the structure & permeability of the skin barrier. Glasswing contains a generous 5% dose of vegan ceramides complex with cholesterol, phospholipids, and hyaluronic acid to prevent moisture loss and restores the skin's lipid barrier.
Now, what's the inspiration behind Glasswing? Erin says, "Inspired by the ethereal, delicate wings of the Glasswing butterfly, this milky, translucent serum absorbs effortlessly and invisibly to hydrate skin deeply. While I love water-based serums, I find that they can often be slightly tacky after application, or even feel like there is a film on my skin. This is usually due to the fact that a lot of hydrating ingredients are rich in polysaccharides (i.e. natural sugars). We really wanted to add a hydrating serum to the line that could really absorb into the skin quickly without leaving any trace, as well as being able to blend seamlessly with other products such as oils and balms. The beautiful Glasswing butterfly captured the ideal for this formula: both there and not there, beautiful but invisible, able to blend into its environment."
2.

VOTARY

Radiance Reveal Mask: Lactic and Mandelic Acid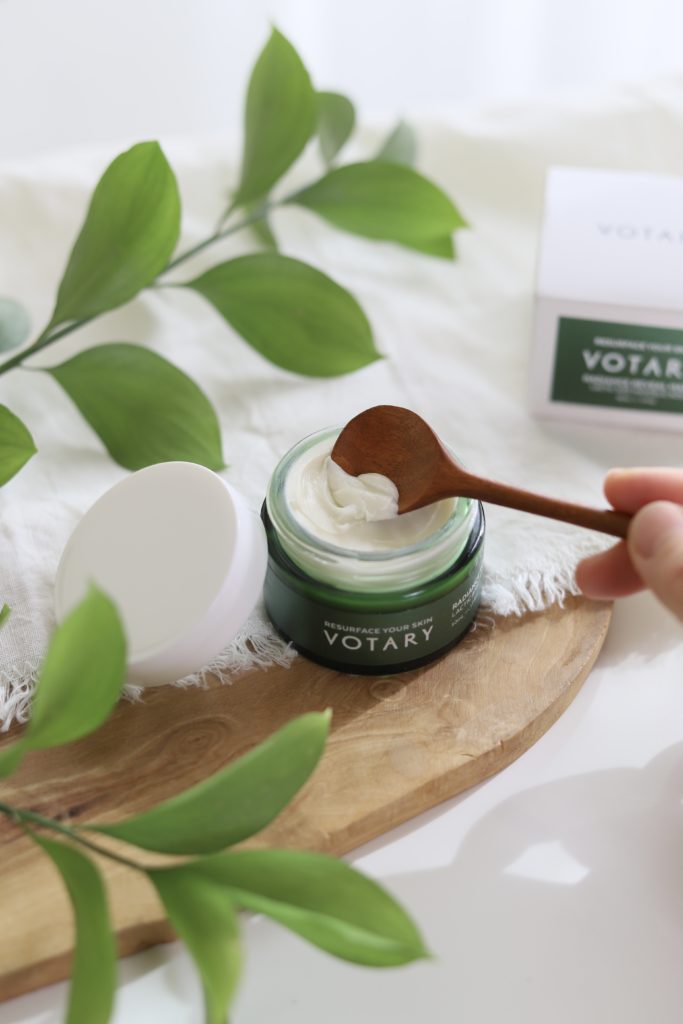 As many of you know, Votary was founded by the wonderful duo: Arabella Preston and Charlotte Semler, who create exquisite skincare that is both gentle & incredibly effective.
This gorgeous new mask, that was released last year, is a great example of how an exfoliating product can be bolstered to be gentle enough for most skin needs, but that is also really effective. I am pretty conservative when it comes to exfoliating and am rather cautious in my use of acids, so I was thrilled to test & experience this cushiony treatment that gently resurfaced my skin, leaving it smooth and bright!
The Radiance Reveal mask contains a mix of two of the gentler alpha hydroxy acids (AHAs): Lactic acid & Mandelic acid which are known to evenly exfoliate the skin. Since both of them have a larger molecular size (when compared to say, glycolic acid), they tend to be gentler. To further minimize any sensitization that acid exfoliation can cause, Votary has also included in this thoughtful formulation, a calming complex of plant extracts & oils that include Oat kernel oil, Echium, Cardiospermum, Sunflower seed unsaponifiables & more.
Says Arabella, the co-founder, "This acid peel treatment helps to even out my pigmentation and smooth away fine lines. It reveals my best, baby-soft skin every time I use it. I love that the powerful acids in the Radiance Reveal Mask are supported with calming ingredients in a fragrance-free, plant-based formulation." 
3. ARCANA Nine Herbs Charm Face Oil Serum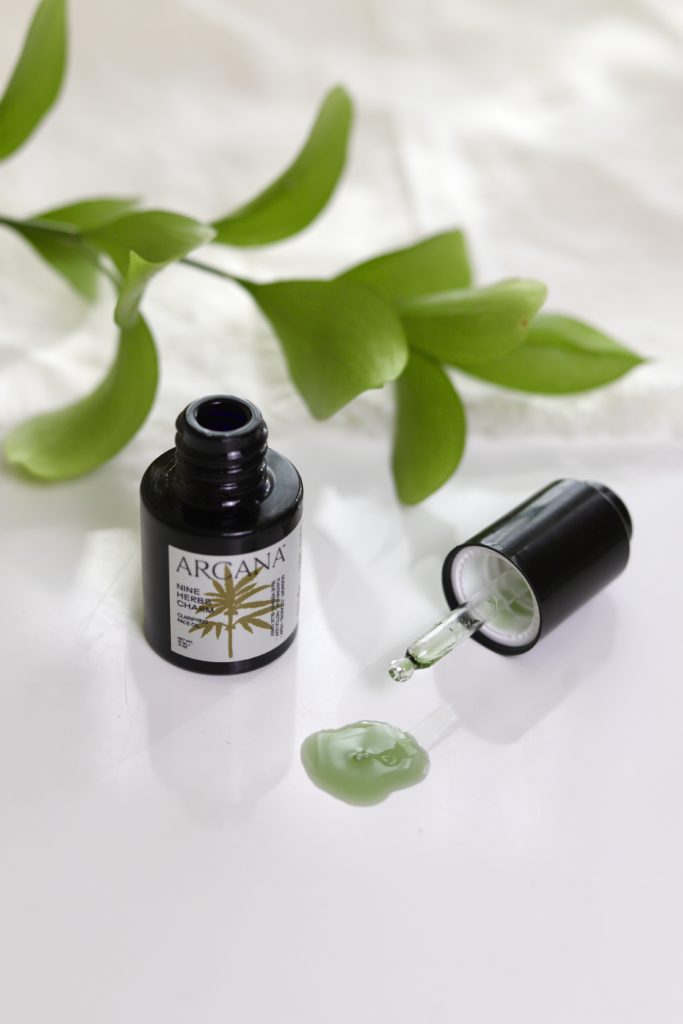 This magical potion, created by Erin Hammond of Arcana, is based on a 1000-year-old medieval recipe called the 'Nine Herbs Charm'. The original charm was recorded in the 11th Century, & is available in a manuscript in the British Library in London. The herbs mentioned in this charm include Mugwort, Fennel, Plantain, Chamomile, Nettle & more, and were thought to have been given to humans by the Germanic god Woden, the god of healing.
Inspired by this herbal lore, Erin composed this serum with several of the herbs mentioned in this charm that are powerful anti-inflammatories. This serum is rich in plant extracts designed to stimulate lymphatic drainage & reduce inflammation.
And let us pause and marvel at the beautiful color of this potion.
Says Erin, "The rich green color comes from a potent sun infusion of herbs including Cleaver, Nettles, Vervain & Mugwort. These are some of my all-time favorite herbs for liver, skin & lymphatic support.".
I've been obsessed with this emerald-hued serum ever since I first experienced it, around two years ago, & cannot recommend it enough. Layer it on damp skin, over Arcana's new & exquisite Glasswing Ceramide serum (also in the April Box), or mix it with Glasswing to create a microemulsion that you can massage into your skin. 
I am very excited for you all to experience these products. Let me know your thoughts!
We have listed few of these as one-time non subscription boxes here 

Happy Spring!