Valeria Cossati, a devoted wife and mother, is out buying her husband cigarettes one Sunday in 1950. Her husband is sleeping and she wants him to find the cigarettes on his nightstand when he wakes up. At the tobacco shop, a stack of "black, shiny, thick" notebooks catches her eye. The tobacconist tells her that it is forbidden for him to sell it to her on a Sunday. But Valeria is compelled for some strange reason to buy it. "I need it," she tells him, and admits that she is "ready to insist, plead". The shopkeeper relents and she makes her way back home, the notebook tucked under her coat. Two weeks later, she makes her first diary entry: a chronicle of how she purchased the book. This is the premise of Forbidden Notebook by Alba de Cespedes, translated by Ann Goldstein (famously, Elena Ferrante's translator).
But what is so special about the diary entry of a woman who leads an ordinary life, who spends all her time (apart from her office job) taking care of her husband, Michele, and their adult children, Riccardo and Mirella? In the hands of the phenomenal Alba de Cespedes, the diary entries transform into an unforgettable literary novel that deserves to be included among the best feminist literature.
Alba de Cespedes was a fascinating figure herself. She led a life of political resistance, championing women's rights and speaking against fascism. Her life and politics are so impressive that they deserve a separate blog post. Here, I will be focusing only on the much meeker Valeria and her forbidden notebook.
From the onset, the notebook troubles Valeria because it is her secret. She feels guilty about writing down her thoughts late at night and finding the right hiding spot for her diary. She cannot tell her family about the notebook; even suggesting she may have a diary elicits laughter from her family. "What would you write, mama?" Michele asks her. But more than that, she is terrified about what the notebook reveals about her. It is as she writes that she slowly begins to discover she is unhappy, where she begins to separate the roles she plays from her own self. The notebook reveals to her her most secret thoughts, but this discovery only induces dismay. She cannot afford to rebel, to be her own person. The role she has to play in her family is too important. Though her kids have grown, they still live with her and Michele in their tiny apartment, where everyone has a space of their own, except Valeria.
Michele leaves the tough parts of parenting—soothing Riccardo when he is unable to find a job and when he has relationship troubles, worrying about Mirella returning home late and her many secrets—to Valeria. Though she has a job, even this is understood by the family as something she does to help them. They don't really know what she does at office; nor would it occur to them that she might nurse ambitions of her own. Every action of hers is seen through the lens of serving the family, and Valeria is proud of the image she has painstakingly built over the years. Only the discovery of her notebook can ruin this.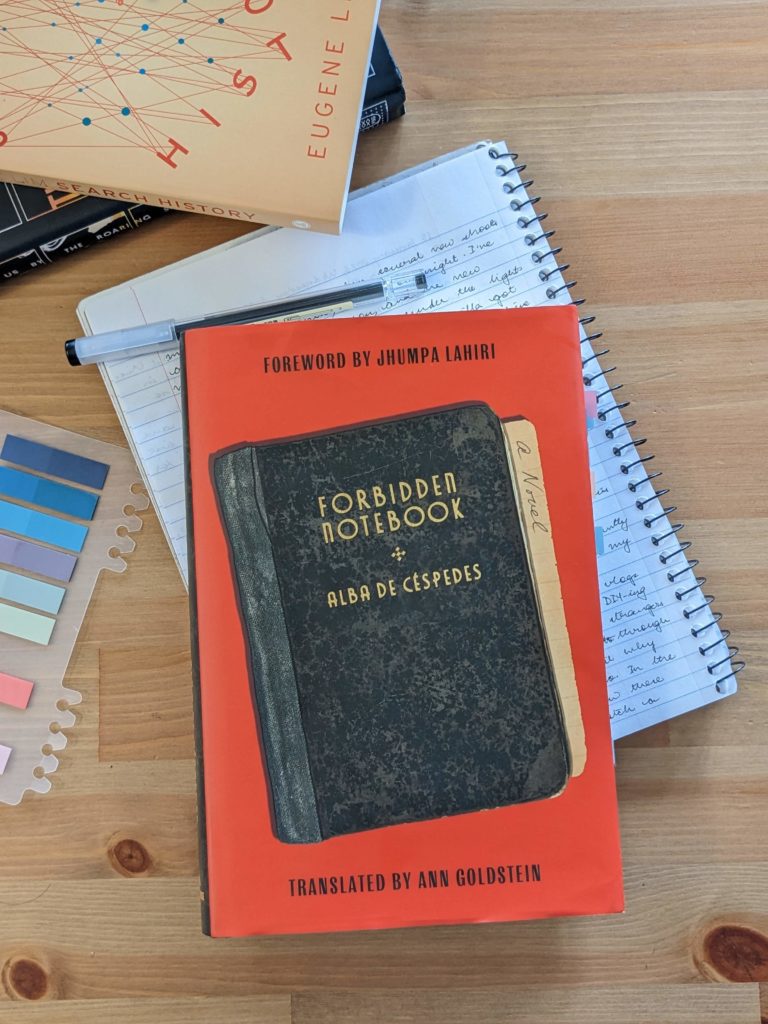 Yet, she cannot stop writing. And in the process of penning down her feelings she comes to realize certain things that make her current existence way less tolerable. Or, as Joy Castro in the Los Angeles Review of Books puts it, "The seduction of keeping a journal is that the very act of paying attention can dignify our experience." For instance, early in the book, she writes:
"As I reread what I wrote yesterday, it occurred to me to wonder if my character began to change the day my husband, jokingly, began calling me 'mamma'."
Her husband was the only person who used to call her by her name: her parents nicknamed her Bebe and her schoolfriends called her Pisani. When Michele switches to "mamma", she is deprived of someone who is close to her saying her name. It is her notebook that impels her to realize how the word "mamma" came to define and limit her.
In another entry, she makes this observation about her family always urging her to take a break from her household duties and rest:
"Recognizing my weariness frees him of every responsibility. So they often repeat, severely, 'You should rest,' as if not resting were a whim of mine."
But, with startling honesty, she also recognizes that the feeling of tiredness is something she craves:
"I'm always tired and no one believes me. And yet tranquility for me originates precisely in the tiredness I feel when I lie in bed at night. There I find a sort of happiness in which I feel peaceful and fall asleep. I have to recognize that, perhaps, the determination with which I protect myself from any possibility of rest is the fear of losing this single source of happiness, which is tiredness."
All of the novel is her thoughts, told simply and honestly. The contrast between her inner and outer self is evident to her, but this is overshadowed by her fear that revealing her 'self' will have devastating consequences. Writing in turns relieves her, leads to significant self-discoveries, infuriates her, and changes her. At times, the notebook is her biggest enemy. But she has to write.
It wasn't easy for me to read the novel because it felt so intimate and its themes resonated so personally with me, though it was published in 1952. Valeria constantly reminded me of my mother, especially in her conversations with Mirella. My mother, like Valeria, is extremely self-aware and observant; she also lives her life for her family. This great gift of hers turns increasingly painful as I grow older, especially as I am approaching my thirties married to a man I love and childless, while my mother, at thirty, had already had her three daughters and a surfeit of responsibilities. Much as Valeria is with Mirella, my mother sees how different her daughters' lives are from hers, and she accepts this is only natural in a world that has changed. Living in post-War Italy, with rumors of another war looming over them, Valeria both admires and resents her daughter's choices. Like mothers everywhere, she views her daughter's freedoms with envy and ambivalence. When she writes about how Mirella reads many books, I thought of my mother, who, with her MA in Literature, was the one to introduce me to the joy of reading but who also no longer reads:
"Mirella studies forensic medicine. She knows everything. For me books were a weakness that I had to overcome little by little, over the years; they give her the pitiless force that divides us."
Forbidden Notebook is that rare book that you just cannot get out of your mind. It amazes me that Cespedes, who was a fierce political activist and feminist, could see so clearly the inner workings of a middle-class mother and write with so much restraint and grace. In her depiction of Valeria, she easily summoned all the loving and painful emotions we feel when we think of our mothers.
I've been urging my mother to read this book. She will, I'm sure, see my sisters or me in Mirella. She'll also probably agree with Valeria when Valeria writes:
"If we can learn to understand the smallest things that happen every day, then maybe we can learn to truly understand the secret meaning of life. But I don't know if it's a good thing, I'm afraid not."
Forbidden Notebook was one of the three choices featured in our April 2023 book box. To subscribe to the book box, click here. To view more of our curated subscription boxes, click here and for our bookshop, go here.
From Rosemary's desk
Rosemary is the content and marketing editor at Boxwalla, with years of experience as an editor at a prominent publishing house in India. She devours books and has opinions (loves Dostoyevsky, hates Joyce) and has recently fallen in love with skincare as well!