Cassoulet (Tarbais) Bean
February 17, 2021
RANCHO GORDO
Cassoulet (Tarbais) Bean
$9.00 $
Cassoulet (Tarbais) Bean
West Coast–grown from classic French Tarbais seed stock. The most famous bean for a traditional cassoulet but versatile enough to become an everyday favorite.
Some would argue that a cassoulet isn't a cassoulet without Tarbais beans. It's a great bean.
Large, white and super-creamy, Rancho Gordo Cassoulet Bean is ideally suited to the slow-cooked goodness of a cassoulet.
All the various meats and seasonings mingle with the mild but sturdy beans and with a little effort, you have one of the classic dishes of southwest France.
Rancho Gordo took the seed from France and produced this bean with their distinct terroir in California. Tarbais beans were developed by generations of farmers in Tarbes, France.
The original seed is a New World bean and most likely originated in Mexico. Out of respect for the French farmers and terroir, this bean is called Cassoulet Bean. We think in order to call it Tarbais, it should be grown in southwestern France.
Suggestions: Cassoulet, salads, pot beans, casseroles, soups, pasta e fagioli, baked beans, dips
Size: 1 Lb Bag
"
Out of stock
Join The Waitlist
We will inform you when the product is back in stock. Please leave your valid email address below.
About the Brand

Rancho Gordo was founded by Steven Sando

How to Use

COOKING TIPS

* To cook these beans as they would in France, simmer with carrot, onion, garlic, peppercorns, and a bouquet garni (bay leaves, celery leaves, fresh parsley, and/or fresh thyme tied with string or placed in a cheesecloth bag). For an extra-rich broth, throw in a thick slice of pancetta or a ham hock.

* A casserole of Cassoulet Beans with odds and ends from your refrigerator and larder, topped with good bread crumbs and dotted with butter before a trip to the oven would be a welcome dish on a winter's table.

* Cauliflower with Cassoulet Beans and Capers
Serves 4 to 6
1. Preheat the oven to 450F.
2. In a large bowl, toss the broken florets of one large head of cauliflower (reserve the leaves) with 2 tablespoons of the olive oil, a pinch of salt and some cracked pepper.
Toss well. Transfer the cauliflower to a large baking sheet and roast in the oven for 10 minutes.
Shake the pan to loosen and move the cauliflower and cook for another 6 to 8 minutes. Set aside.
3. Pour the remaining 2 tablespoons oil into a cold frying pan, add the reserved cauliflower leaves, 5 cloves of sliced garlic, 5 tbsp of drained capers and 1 tsp of cumin seeds and then turn the heat to high.
When the garlic turns golden, add 1 tsp of sweet pimentón (sweet smoked paprika), and then 3 & ½ tbsp of sherry vinegar.
Cook for 30 seconds to reduce the liquid a bit. Reduce the heat to medium and add 1 & ½ cups cooked Cassoulet beans; cook for about 4 minutes, until the beans are warmed through.
Add the roasted cauliflower.
Make sure the ingredients are well mixed, then sprinkle with parsley and serve.

* Baked Cassoulet Beans with Summer Squash & Corn
Serves 4
1. Preheat the oven to 350F. Lightly grease an oven-proof gratin dish.
2. In a small skillet over medium-high heat, melt 2 tbsp butter or olive oil. Add 1 cup fresh breadcrumbs (crusty bread torn into small chucks) and stir, frying until light golden. Set aside.
3. Arrange slices of one large tomato so they cover the bottom of the dish.
Add a layer of 1/4 pound thinly sliced squash, then top with 1& ½ ears of corn kernels and ¾ cup cherry tomatoes.
Sprinkle with 2 cloves of minced garlic, 1 tsp lemon zest, and salt and pepper to taste.
Add a layer of 3 to 4 cups of cooked Cassoulet beans on top of the vegetables.
Pour about 1/4 cup of bean broth over the beans (just enough to wet them).
Over the beans, add another layer of ¼ pound thinly sliced summer squash, ½ ear of corn, and ¼ cup cherry tomatoes.
Top with the breadcrumbs and pancetta, if using. Drizzle with olive oil or, if you prefer, dot with butter.
4. Bake for about 30 minutes, until the breadcrumbs are golden and the squash is tender. Before serving, drizzle with a bit more olive oil and dust with a generous amount of cheese, fresh herbs, and more lemon zest

Ingredients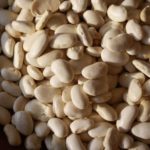 Out of stock
Join The Waitlist
We will inform you when the product is back in stock. Please leave your valid email address below.