You cannot add "Black Caviar Lentil" to the cart because the product is out of stock.
Black Caviar Lentil
February 17, 2021
RANCHO GORDO
Black Caviar Lentil
$9.99 $
Free U.S. Shipping, No MinimumSubscribers Save 15% In Our Retail Shops Every Day!
Rancho Gordo Black Caviar Lentil
Black Caviar Lentil are small, gentle, quick-cooking lentils with a luxurious flavor and texture. Firm yet creamy, they are sure to be your new best friend in the kitchen. Hearty, small ebony lentils that resemble caviar but have a unique lentil taste and texture. The skins almost melt away. Versatile and indulgent, they are less common than brown or green lentils and are at home in both rustic dishes and elegant meals.
Suggestions: Salads, soups, stews
Size: 1 Lb Bag
From The Rancho Gordo Kitchen: Ideal in soups and salads, or folded into yogurt as a perfect summer dish. We ignored lentils for years, but we will ignore them no longer! They are one of the earliest cultivated crops and have been a source of sustenance for humans for thousands of years. History aside, what we love about them is that they are quick-cooking, they taste delicious, and they only need a few aromatic vegetables and a splash of good olive oil to make a great meal.
Out of stock
Join The Waitlist
We will inform you when the product is back in stock. Please leave your valid email address below.
About the Brand

Rancho Gordo was founded by Steven Sando

How to Use

COOKING TIPS

* To cook, simmer gently with water, a bay leaf, and a garlic clove until done, about 20 to 25 minutes. Check them often as they can overcook quickly.

* Lentil with sun-dried tomatoes and chicken/walnuts and feta

-Add ½ teaspoon salt, minced sun-dried tomatoes and oil, the garlic,
3 tablespoons of the parsley, and vinegar.
-Stir gently to mix.
-Mound the cooked lentils onto a platter.
-Top with the cheese and chicken or walnuts.
-Garnish with some slivers of sun-dried tomato and feta.
-Sprinkle with the remaining1 tablespoon parsley.
-Serve at room temperature.

* Lentil and Potato Stew
1. In a heavy, large saucepan, heat olive oil over medium heat. Add 2 garlic cloves and ¼ minced onion and stir 30 seconds. Add 4 cups water, bay leaf, 1 cup Black Caviar Lentils, and ½ pound cubed potatoes; bring to boil. Reduce heat, cover and simmer until lentils and potatoes are tender, stirring occasionally, about 25 minutes. Add more boiling water if needed.
2. Season with salt and freshly ground pepper. Divide among bowls and top with pumpkin seeds and herbs, if desired.

Ingredients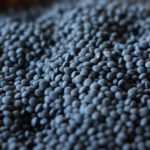 Out of stock
Join The Waitlist
We will inform you when the product is back in stock. Please leave your valid email address below.