Chai Concentrate Unsweetened 16oz
March 29, 2021
ONE STRIP CHAI
Chai Concentrate Unsweetened 16oz
$14.00 $
What is it? Bold, flavorful, and free of sweeteners. Crafted in small batches in the heart of Southeast Portland with tea from a family-owned farm in Assam, India.
Notes from the Curator: Bring home the south asian flavor of masala chai home with this Chai Concentrate from One Strip Chai!
Let's Get Nerdy: Each bottle is hand filled with concentrate to ensure it's of the highest quality. The adorable bottles can and should be reused—stuff them with pretty flowers!
About the Brand

Founded by Farah Jesani, Chief Chai Office of One Strip Chai. In Farah's own words "I have to start by explaining my relationship with chai. I'm Indian so drinking chai is basically in my blood. I have memories with chai that most people in the US have with coffee. I still remember getting my first cup in a small light amber mug with a matching saucer which I used to cool the chai down and slurp up. Soon enough after college I was reacquainted with chai, but I still avoided ordering chai lattes at coffee shops because I always found them to be too sweet or incredibly bland. Fast forward about 5 years, and I found myself in Portland launching a chai company to bring this South Asian beverage back to its roots - starting with craft coffee shops. The idea of One Stripe Chai Co. fell into my lap randomly and serendipitously, the way most great things tend to fall into laps."

How to Use

Servings

One 32-ounce bottle equals eight servings.

How to make

It's simple: Just mix 1:1 with the milk of your choice and serve hot or over ice.

Unopened, the shelf life of One Stripe Chai is six months. After opening, refrigerate and use within two weeks.

Ingredients

Water, organic black tea, organic spices, organic ginger, citric acid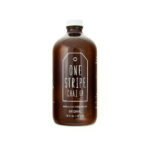 Chai Concentrate Unsweetened 16oz