Dekalog By Krzystof Kieslowki
December 27, 2021
Dekalog By Krzystof Kieslowki
$99.95 $
Free U.S. Shipping, No MinimumSubscribers Save 15% In Our Retail Shops Every Day!
Dekalog By Krzystof Kieslowki from Criterion Collection In Blu Ray.
What's in this Film Box:
1) Dekalog Trilogy by Krzystof Kieslowki
Retail Value: $99.95$
Dekalog
This masterwork by Krzysztof Kieślowski is one of the twentieth century's greatest achievements in visual storytelling. Originally made for Polish television, Dekalog focuses on the residents of a housing complex in late-Communist Poland, whose lives become subtly intertwined as they face emotional dilemmas that are at once deeply personal and universally human. Its ten hour-long films, drawing from the Ten Commandments for thematic inspiration and an overarching structure, grapple deftly with complex moral and existential questions concerning life, death, love, hate, truth, and the passage of time. Shot by nine different cinematographers, with stirring music by Zbigniew Preisner and compelling performances from established and unknown actors alike, Dekalog arrestingly explores the unknowable forces that shape our lives. Also presented are the longer theatrical versions of the series' fifth and sixth films: A Short Film About Killing and A Short Film About Love.
SPECIAL FEATURES
– New, restored 4K digital transfers of all twelve films, with uncompressed monaural soundtracks on the Blu-rays
– Selection of archival interviews with director Krzysztof Kieślowski, taken from a 1987 television piece on the production of Dekalog: Two, excerpts from the 1995 documentary A Short Film About "Dekalog," and a 1990 audio recording from the National Film Theatre in London
– New program on the formal and thematic patterns of Dekalog by film studies professor Annette Insdorf
– New and archival interviews with Dekalog cast and crew, including cowriter Krzysztof Piesiewicz, thirteen actors, three cinematographers, editor Ewa Smal, and Kieślowski confidante Hanna Krall
– Trailers
– PLUS: A book featuring an essay and capsules on the films by cinema scholar Paul Coates, along with excerpts from Kieślowski on Kieślowski
– New cover by Anthony Gerace
Description

Dekalog from Criterion Collection In Blu Ray is a 1989 Polish drama television miniseries directed by Krzysztof Kieślowski. Based on the ten commandments.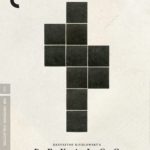 Dekalog By Krzystof Kieslowki