Dragon's Blood Antioxidant Cream
February 17, 2021
LOVINAH
Dragon's Blood Antioxidant Cream
$115.00 $
Free U.S. Shipping, No MinimumSubscribers Save 15% In Our Retail Shops Every Day!
Dragon's Blood Antioxidant Cream
What is it? Luxurious hydrating cream enriched in plant stem cell technology for a visibly radiant, firmer, smoother and nourished skin. The powerful blend of innovative ingredients reinforced with antioxidant superstar L-Glutathione, Superoxide dismutase and other anti-aging compounds to deliver critical antioxidants into the skin, helping fight free radical damage and inflammation.
Notes from the Curator: Infused with potent antioxidants, peptides, plant stem cells, ceramides, Chios Mastiha resin and dragon's blood sap, this is a lightweight, luxuriously textured antioxidant cream that offers multi-dimensional hydration, leaving skin feeling deeply hydrated, nourished and with a protected 'cushioned' feel. A perfect cream that can be used day or night for treating dehydrated, sensitive and red skin.
Let's get Nerdy: Dragon's Blood cream has a unique moisture time release delivery system, that gradually 'drip-feeds' hydration into the skin throughout the day, helping to keep the skin smooth, soft and supple over a long period of time. Using patent pending JoySpheres™ time-release ingredient delivery system with key hydration boosting ingredients for long-lasting moisturization
Size: 50ml
Key Ingredients:
MASTIC WATER
Beautify your skin with the Sacred Tears of Chios. Chios mastiha (or mastic) is the natural resin
from the trunk and branches of the mastic tree. Mastiha, also known as mastic, is a potent natural
anti-inflammatory and anti-bacterial resin that has been used for its various medicinal properties
since the earliest days of pharmacology. Since ancient times, mastiha has been renowned for its
medicinal and therapeutic values. This multifaceted resin hosts a litany of skin health benefits
including skin brightening, antioxidant protection and anti-inflammatory properties for all skin types
and conditions. Several studies have been conducted to prove its antimicrobial, antioxidant and
anti-inflammatory properties and its benefits to the skin.
TETRAHEXYDECYL ASCOBATE
Tetrahexyldecyl Ascorbate is a stable, oil-soluble form of Vitamin C ester which has antioxidant
activity, inhibiting lipid peroxidation. Topical use can mitigate the damaging effects of UV exposure.
Unlike ascorbic acid, it will not exfoliate or irritate skin.
DRAGON'S BLOOD
Dragon's Blood is red tree sap found in the Amazon Rainforest. This miracle tree resin has been used for hundreds of years for healing and protecting skin.Known as a liquid facelift, it adds volume to hollow skin and makes it plumper and younger. It is the highest source of antioxidant in the world. The sap is rich in protective antioxidant phenols, and anti-inflammatory compounds of various kinds. Due to these compounds, Dragon's blood sap helps to protect the cells of the skin, and reduces redness and swelling. This red sap is loaded with antioxidants and wards off free radicals that cause premature ageing. It also deeply moisturizes, promotes cell renewal and even boosts collagen production.
MILK THISTLE
Milk thistle was used in ancient times to treat a variety of conditions. Its a powerful antioxidants
which can help protect the skin from free radicals and from the pollutants that surround us every
day. When used topically, it can also protect against UVA and UVB damage. All of these elements
lead to premature aging, and UV radiation can even cause oxidative stress
CLOUDBERRY SEED OIL
Cloudberry Seed Oil is rich in Vitamin C, an antioxidant that stimulate the production of Collagen,
Vitamin E, Carotenoids, Phytosterols and Ellagic Acid – that protect from free radical damage
brought on by the harmful sun rays and other environmental factors, like pollution. By regenerating
the skin cells from UV damage and promoting the healing of other scars and damage done to the
skin, Cloudberry Seed Oil is able to help in delaying and combating fine lines, wrinkles and other
signs of aging.
LINGOBERRIES
Lingonberries has exceptionally high amounts of antioxidants, plant sterols and essential Omega-3
and Omega-6 fatty acids. With a built-in anti-wrinkle effect that in nature keeps the berries from
shrinking during frosty nights, whilst retaining moisture and elasticity. Lingoberry seed oil contains a
high level of fatty acid Omega-3, but also the antioxidant gamma-tocotrienol, a natural vitamin E that
is 60 times more powerful than its artificial counterpart. These nutrients help moisturize the skin,
reduce wrinkles and improve elasticity. Lingonberry Seed Oil has the highest content of
alpha-linolenic acid among the berry seed oils. Together with linoleic acid these essential fatty acids
make up 85% of total fatty acids. The oil moisturizes and smoothes skin, keeping skin youthful and
vibrant.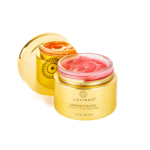 Dragon's Blood Antioxidant Cream