Goodnow Farms Guatemala Asochivite 77% Cacao
March 1, 2023
GOODNOW FARMS
Goodnow Farms Guatemala Asochivite 77% Cacao
$13.00 $
Free U.S. Shipping, No MinimumSubscribers Save 15% In Our Retail Shops Every Day!
Goodnow Farms Guatemala Asochivite 77% Cacao chocolate bar has delightfully bright fruit flavors of green banana and mango.
Asochivite Gautemala chocolate bar has won Silver at the Northwest Chocolate Festival Awards!
The Q'eqchi Maya farmers of Chivite, Guatemala harvest cacao from the wild trees surrounding their village.  In the beginning their fermentation and drying facility badly needed updating.  Working with the farmers and with Cacao Verapaz, the necessary materials were funded for village to build a brand new fermentation and drying area.  They're now able to provide incredibly high quality cacao on a consistent basis.
Size: 55 g/  1.94 oz
Asochivite Guatemalan Chocolate
A Farming Village So Remote, It's Accessible Only By Footbridge!
The remote Guatemalan village of San Juan Chivite is perched on the side of a mountain, reachable only by foot. Part of the journey requires crossing a long, narrow wooden and steel cable footbridge across which all harvested cacao is carried by hand.
At the start of the Guatemalan civil war the village was part of a coffee farm, but when coffee prices declined the owner sold the farm and the land ended up in the hands of 64 indigenous Maya families who had been displaced by the war. They began by growing both coffee and cacao but switched entirely to cacao in 2002.
There are now 125 families living in San Juan Chivite, all of whom are descendants of the original 64 families.
Until recently they sold their cacao locally, at low prices, but are now working with Cacao Verapaz, which has provided them with technical assistance to improve their fermentation and drying techniques.
A new fermentation and drying facility meets the needs of the villagers.
When Tom & Monica from Goodnow Farms first visited the village in 2015 the villagers told them one of their most pressing needs was to replace their old and inadequate fermentation and drying area with a new facility that would allow them to improve their post harvest capabilities. Impressed with the villagers' commitment to producing high quality cacao, Goodnow Farms agreed to fund the construction of a new fermentation and drying area. The villagers built the new facility themselves, with technical advice from Cacao Verapaz, and began using it for the 2016 harvest.
Flavor profile: The chocolate made from this bean has a delightfully bright fruit flavor, with light acidity and a mellow, dark fruit finish.
Description

Goodnow Farms Guatemala Asochivite 77% Cacao chocolate bar has delightfully bright fruit flavors of green banana and mango.

ABOUT THE BRAND

In words of Tom & Monica the founders of GoodNow Farms "We're often asked "why single origin?" and the answer is simple – much like coffee, different cacao beans have different flavors. By using beans sourced from only one farm or region we're able to highlight the distinct flavor characteristics of that particular bean. Discovering those flavors is one of the joys of making (and eating!) single origin chocolate.
We've spent a lot of time on farms throughout Latin America searching for the most flavorful beans, and have developed direct relationships with the farmers who grow and harvest them. By dealing directly with farmers we're able to ensure that they're fairly compensated for their cacao, and also that the farming practices they're using are sustainable.
All of our bars are made here at our 225 year old farm in Sudbury, Massachusetts. We start with cacao beans and sugar, and perform every step of the chocolate making process in-house, including carefully hand wrapping each bar.
We believe that great chocolate is "true to the bean," in that the flavors apparent in the bar reflect the flavors hidden in the bean. The process of making this happen is extremely time consuming and labor intensive, but we believe the experience of eating our chocolate makes it all worthwhile."

INGREDIENTS

Cacao Beans, Organic Sugar, Fresh Pressed Cocoa Butter
May contain trace amounts of peanuts and tree nuts.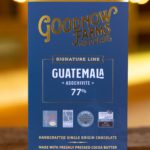 Goodnow Farms Guatemala Asochivite 77% Cacao