Kashmiri Chili Powder
August 6, 2022
BURLAP AND BARREL
Kashmiri Chili Powder
$9.99 $
Burlap & Barrel's Kashmiri chilis, in whole and powdered form, are a staple of Indian cuisine and a welcome addition to any dish that needs a burst of flavor and color. The fresh peppers are long, slender and brilliant red. Kashmiri chili boasts a classic balance of heat and sweetness, and this variety is hotter than others you may have tried!
The chilis are prized for their flavor and also their vibrant red color, which imparts a beautiful hue to rubs for Tandoori meats and stews like Rogan Josh. The rich color and bright, sweet flavor make this chili powder a perfect everyday alternative to cayenne, and the full, round taste is a welcome addition anywhere you might use cayenne pepper or hot paprika.
Free U.S. Shipping, No MinimumSubscribers Save 15% In Our Retail Shops Every Day!
About the Brand

Burlap & Barrel founded by Ethan Frisch a native New Yorker, entrepreneur and activist around food systems and social justice. Ethan has worked in kitchens as a line cook and pastry chef in New York and London, and as the chef behind Guerrilla Ice Cream and Ori Zohar who is an experienced social entrepreneur and the co-founder of Burlap & Barrel, where he leads the company's domestic operations, eCommerce and finances. Burlap & Barrel is a Public Benefit Corporation building new international food supply chains that are equitable, transparent and traceable. They are working towards ending inequality and exploitation in food systems that disenfranchise skilled farmers by Connecting smallholder farmers to high-value markets, Educating consumers about the impact of product traceability on human rights and Sourcing unique foods with terroir that are grown biodynamically and organically using traditional techniques.

How to Use

Use in a rub for grilled lamb or other meat kebabs
Add to soups and stews for medium heat and rich color
Use anywhere you'd use cayenne pepper, chili powder or hot paprika

Ingredients

Kashmiri chili powder (Capsicum annuum v. Kashmiri)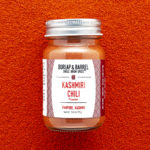 Free U.S. Shipping, No MinimumSubscribers Save 15% In Our Retail Shops Every Day!