Nicaragua, El Carmen 77% Cacao
March 1, 2023
GOODNOW FARMS
Nicaragua, El Carmen 77% Cacao
$12.00 $
Free U.S. Shipping, No MinimumSubscribers Save 15% In Our Retail Shops Every Day!
Nicargua, El Carmen chocolate bar has won Gold at the International Chocolate Awards!
The beans are named after the town in and around which they're grown, which is located in Nicaragua's Central Highlands.
The wet cacao beans (baba) are sent to Giff and Jose, owners of Cacao Bisiesto, at their farm just outside the town of Matagalpa. Then they ferment and dry the beans at their centralized facility located on the farm, which allows them complete control over the entire flavor development process.
Size: 55 g/ 1.94 oz
Description

Goodnow Farms Nicaragua, El Carmen 77% Cacao Single Origin Chocolate

ABOUT THE BRAND

In words of Tom & Monica the founders of GoodNow Farms "We're often asked "why single origin?" and the answer is simple – much like coffee, different cacao beans have different flavors. By using beans sourced from only one farm or region we're able to highlight the distinct flavor characteristics of that particular bean. Discovering those flavors is one of the joys of making (and eating!) single origin chocolate.
We've spent a lot of time on farms throughout Latin America searching for the most flavorful beans, and have developed direct relationships with the farmers who grow and harvest them. By dealing directly with farmers we're able to ensure that they're fairly compensated for their cacao, and also that the farming practices they're using are sustainable.
All of our bars are made here at our 225 year old farm in Sudbury, Massachusetts. We start with cacao beans and sugar, and perform every step of the chocolate making process in-house, including carefully hand wrapping each bar.
We believe that great chocolate is "true to the bean," in that the flavors apparent in the bar reflect the flavors hidden in the bean. The process of making this happen is extremely time consuming and labor intensive, but we believe the experience of eating our chocolate makes it all worthwhile."

INGREDIENTS

Cacao Beans, Organic Sugar, Fresh Pressed Cocoa Butter
May contain trace amounts of peanuts and tree nuts.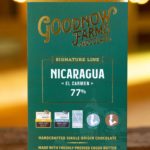 Nicaragua, El Carmen 77% Cacao