Santa Maria Pinquito Bean
October 13, 2022
RANCHO GORDO
Santa Maria Pinquito Bean
$9.99 $
Free U.S. Shipping, No MinimumSubscribers Save 15% In Our Retail Shops Every Day!
Rancho Gordo Santa Maria Pinquito Bean
Santa Maria Pinquito bean have a superior pot liquor and stay somewhat firm. Ideal for chili, barbecues, or for borrachos (or drunken beans). Don't forget them for salads!
This lovable heirloom is loaded with California history. Most of us thought the Santa Maria "Pinks" were brought in with the migrant citrus workers of the 1950s (who also introduced us to the tri-tip) but now there's some thought that it was a crop during the Mission era. Whatever its origins, it's delicious and meaty and the perfect match for any barbecue, chili or even salad.
Cooking Suggestions: Santa Maria-style barbecue, salads, soups, pot beans, chili, casseroles, baked beans, dips.
Size: 1 Lb bag
From The Rancho Gordo Kitchen: Classic Santa Maria country barbecues include the Pinquitos and a beef tri-tip. The meat is somewhat simple and all sorts of ingredients go into the beans. We tend to think it should be the other way around. These beans don't need doctoring up! Just some onions, garlic, a little fat, and your pot of beans is ready for summer, and beyond.
ABOUT THE BRAND

Rancho Gordo was founded by Steven Sando.

HOW TO USE

Check beans for debris, and rinse thoroughly. In a large pot, sauté aromatic vegetables (onions, garlic, celery, carrot, etc.) in olive oil. Add beans and enough water to cover by about 2 inches. Bring to a full boil for 10 to 15 minutes. Reduce heat to a gentle simmer, using a lid to help regulate the heat, and gently cook until done, 1 to 3 hours. Salt when the beans start to soften. A pre-soak of 2 to 6 hours will lessen the cooking time.

INGREDIENTS

Santa Maria Pinquito Bean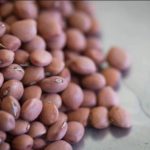 Santa Maria Pinquito Bean