Garbanzo Bean (Chickpea)
February 17, 2021
RANCHO GORDO
Garbanzo Bean (Chickpea)
$6.95 $
A slightly nutty-flavored classic bean, essential for Middle Eastern, Mexican and European cooking. New-crop harvest ensures quicker cooking and fresher flavor.
Garbanzos aren't a true "new world" bean, but we love them so much and the imported crops tend to be so old and dusty that we make this one of our California crops.
Obviously they're classic for hummus and as a key ingredient in a green salad, but they're great in soups, too.
For salads, try skipping the lettuce and go for the crunch. Celery, carrots, onions, Garbanzos (chickpeas) and your favorite dressing make for a great salad.
Baking soda is unnecessary with this new crop beans.
Suggestions: Salads, hummus, soups, dips, snacks
Size: 1 Lb Bag
Out of stock
Join The Waitlist
We will inform you when the product is back in stock. Please leave your valid email address below.
About the Brand

Rancho Gordo was founded by Steven Sando

How to Use

COOKING TIPS

*Fried Garbanzo Snack

1. In a small bowl, combine 1 tsp garlic powder, 1 tsp oregano, 1 tsp Stardust dipping powder, and salt and pepper.
Heat 2 tbsp olive oil in a small skillet over medium¬high heat.
Add 2 cups cooked chickpeas and cook, shaking the pan occasionally, about 7 minutes.
Keep cooking until most of the moisture is gone.
They won't be crispy fried, more like very small russet potatoes when cooked.
Drain the chickpeas on a paper towel.
2. Taste and adjust the seasonings. Serve at room temperature.

* Slow-Baked Garbanzos
(Serve 6–8)
1. Cook 1 pound Garbanzo beans in plenty of water with one bay leaves.
Bring the pot to a rapid boil and continue cooking for 15 minutes. Reduce the heat to medium low.
Gently simmer the beans until they're almost soft, about an hour to an hour and half.
(Timing will vary wildly if you are using older beans or a brand other than Rancho Gordo.)
Strain the beans and reserve the cooking liquid.
2. Preheat the oven to 325F.
3. In an oven-proof, wide pan, like a cazuela, add the drained garbanzos followed by enough of the reserved cooking broth to reach 2/3 of the way up the beans.
Add the herbs and lightly salt.
4. Over the chickpeas, layer 3 large red onions – halved and sliced, followed by 3 cloves of thinly sliced garlic, then 1 each of red, green and orange bell peppers – cleaned and sliced into ¼ inch rings, 1 stalk celery – sliced into matchstick sized pieces, and finally 2 to 3 large tomatoes sliced.
Pour the olive oil to cover the top.
Cover the pan with a lid if you have one, otherwise cover with a piece of parchment paper and aluminium foil.
5. Bake for 2 1/2 hours.
Uncover and continue baking for another 30 minutes.
The liquid should be absorbed and top just starting to char.
Remove and allow to cool to warm or room temperature.
Crack plenty of black pepper over the top and serve.

* A Simple Hummus

1. In a large pot, cover ½ pound Garbanzo beans and ¼ sliced onion by 2 inches of water and bring to a strong boil for 15 minutes.
Reduce heat to a gentle simmer, add 1 bay leaf, and cook until tender.
Add more hot water (from a tea kettle) if needed.
2. Strain the garbanzos (reserving a quarter cup for serving)
and add them to a food processor with 6 tbsp tahini, juice of 1lemon, 3 cloves minced garlic and salt and pulse until smooth.
Taste and adjust the salt, tahini and lemon to your liking.
You can also mix the hummus in a bowl using an immersion blender.
3. Pour the hummus into a shallow bowl and with your (clean!) finger draw a little pattern and gently drizzle your best extra virgin olive oil over the top, letting it flow as it may.
Dust with Spanish paprika and dot with the reserved, whole garbanzos.
Serve with raw vegetables or pita.

Ingredients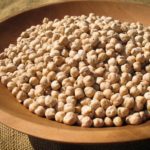 Out of stock
Join The Waitlist
We will inform you when the product is back in stock. Please leave your valid email address below.