I'm not sure whether it was lucky or unlucky that the beginning of my eco-luxe-skincare (the kind that Boxwalla always features in its beauty box and skincare store) discoveries coincided with the release of the February 2023 Beauty Box. Maybe the right word to use is "fortuitous": in the box were two vibrantly colored products that introduced me to Lovinah Supernatural Skincare.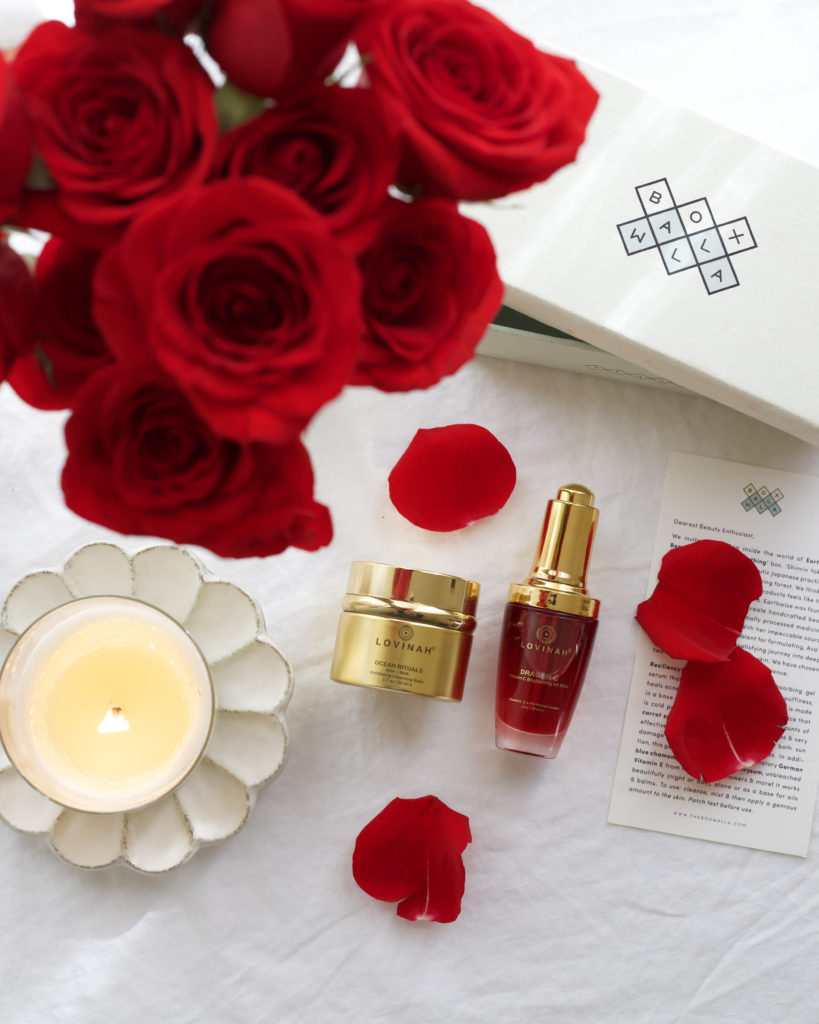 I've been regularly using three products from Lovinah since February: the Dragon-C Vitamin C & Bio-Retinol Brightening Elixir, the Ocean Rituals AHA & BHA Exfoliating Cleansing Balm, and the Dragon's Blood Dark Spot Correcting Serum. And my skin is so grateful!
Dragon's Blood, which is tree sap from the sangre de drago tree, is an ingredient that is beloved to Joy Ekhator, the creator of Lovinah. The skincare brand has a range of products with this ingredient, of which I've tried two – and love both for different reasons.
The Dragon-C Vitamin C & Bio-Retinol Brightening Elixir is, in a word, a powerhouse. I have never had a good relationship with Vitamin C, though I'd been tempted from time to time to try multiple products and formulations. The ingredient that's often credited with collagen production and brighter skin only caused redness and irritation on mine, so I resigned myself to the idea that maybe Vitamin C is not for me. I used other products with antioxidant properties, telling myself that they were no different from the benefits that the much hyped Vit C provided.
So when Lavanya told me that they were featuring a product from Lovinah which contained 30% Ascorbyl Tetraisopalmitate, as well as three other plant-based sources of the vitamin (not to mention the addition of bakuchiol oil), I was wary to try it out. She sent the February box to me anyway, reassuring me that if I used the Glasswing Immersive Ceramide Milk by Arcana and Naturallogic's Eternal Milk Vitamin Peptide Treatment right before, even the most potent serum would not irritate my skin.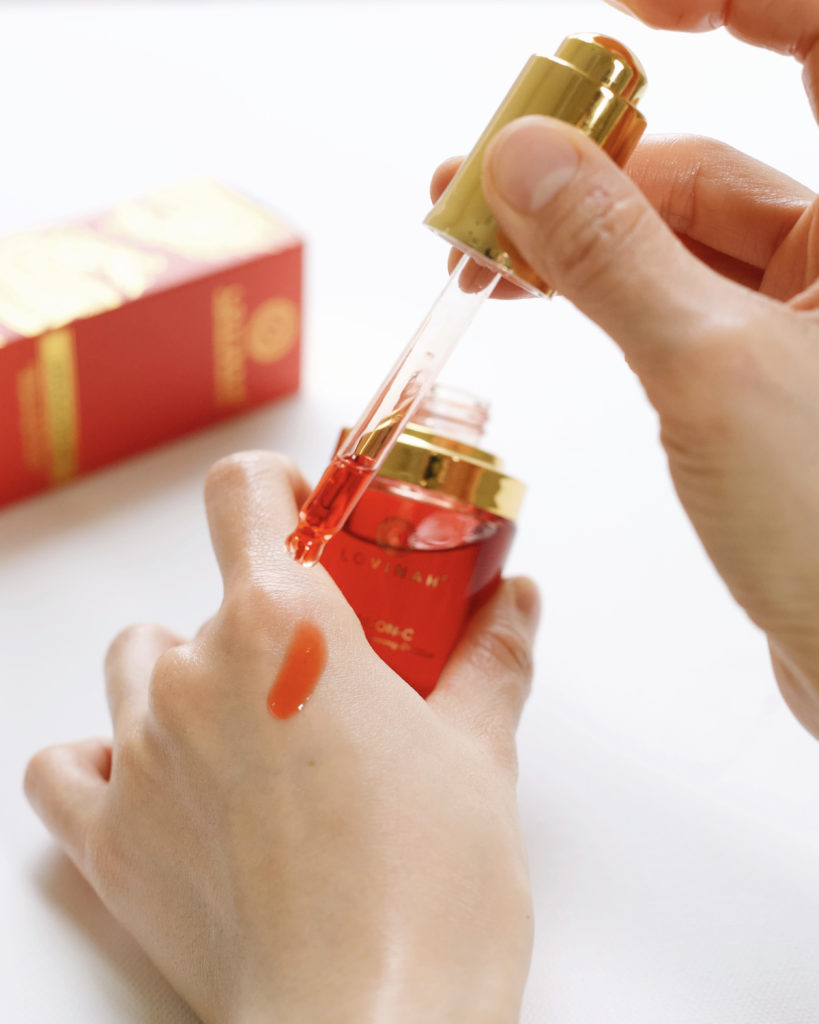 Lovinah Dragon-C is definitely potent. My skin was visibly brighter from the very next morning! The elixir is also so fun to use: it has a fruity, delicious scent and has an oil-like texture that easily absorbs into the skin. Over the next few weeks, as I used it regularly, I felt my face looked clearer and brighter. And then a friend said I was glowing, so I had no option but to conclude: I love Vitamin C! On several occasions, I have used the elixir right after cleansing, and even then, my skin wasn't irritated. I am a novice into the skincare world and do not understand how formulations work, but I am in awe of whatever Lovinah did to make a treatment with such a high percentage of Vitamin C so stable and reliable.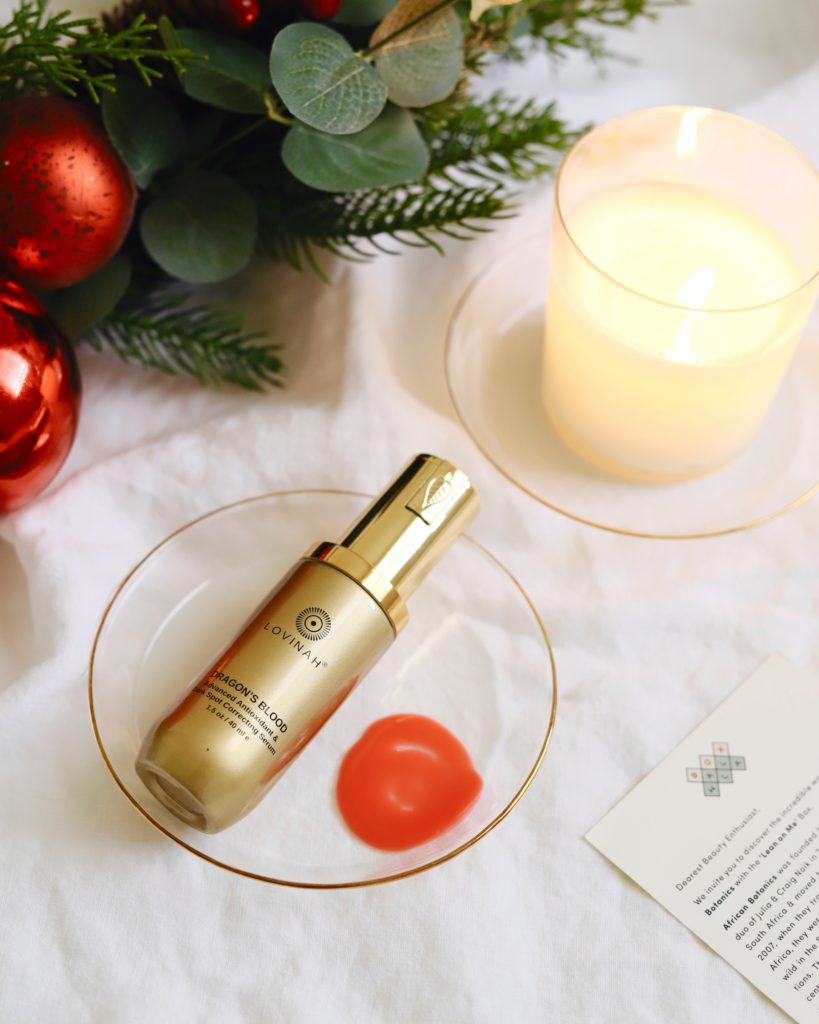 I began using Lovinah's Dragon's Blood Dark Spot Correcting Serum a few weeks after I'd incorporated the contents of the February beauty box into my skincare regimen, so I exercised no caution when I began using this product. I use it after my cleanser in the morning, followed by a moisturizer and sunscreen. This silky serum is a beautiful red that feels like a soothing cream on the skin. Its primary purpose is improving the skin's texture by removing dark spots and evening skin tone. But for me, the most visible change I noticed was that my skin felt plump and moisturized – an outcome I am always look for with my skin which, if neglected, quickly begins to resemble cracked, dry soil that hasn't seen rain in years.
Both the Dragon C products are potent and effective, but it's time to reveal my favorite: the Ocean Rituals AHA & BHA Exfoliating Cleansing Balm! How much do I love it? Enough to force every friend who comes home to wash their face with it. Enough to shamelessly take home the bottle we'd put on display at our booth at the LA Times Festival of Books. Enough to say I could use this cleanser all my life and be delighted!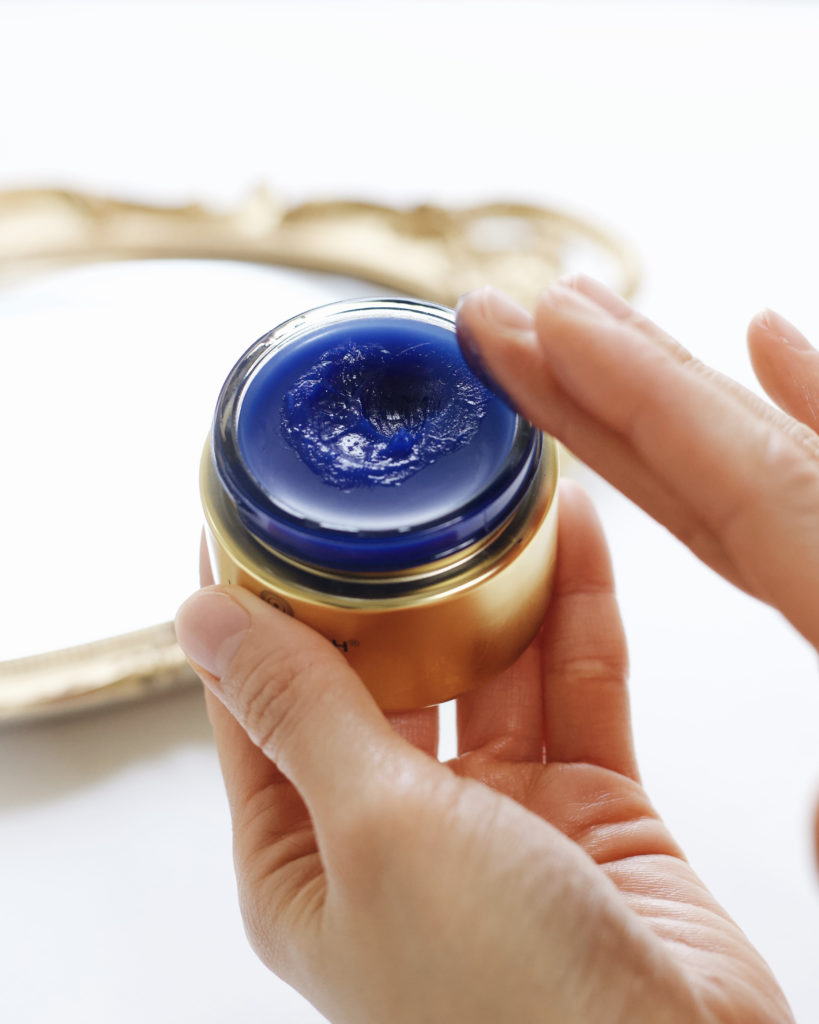 This cleanser is the reason I have been sticking to my skincare regiment. It's very easy for me to tell myself, I'll wash my face tomorrow, night after night. I don't do that anymore, because I picture the gorgeous blue of the Ocean Rituals Cleansing Balm. It's impossible to not feel a little happy when you open the bottle and admire the deep blue balm before scooping it out with the delightfully quaint but mighty golden spoon that comes with it. I love the balm so much that cleansing, the part of my skincare routine I liked the least, is now my favorite. The balm feels like a cream that dissolves into an oil as you massage it on to your skin, and then emulsifies into a milk if you splash some water and slowly wash it off your face. Watching the balm transform on your skin as you gently massage it is mesmerizing. And the result: my skin is clean, plump, and soft. I did not know cleansers could do this, could be this magical!
"Magical" is a word that can be applied to Lovinah in general. Not only are Joy Ekhator's creations incredibly effective, they also manage to elevate a routine into a ritual. Everything about Lovinah is designed by an artist: from its gorgeous packaging and beautiful containers to its incredible formulations. As you can tell, I am in love.