Earlier this year, we featured two incredible products from African Botanics, a brand that's been a favorite with both our customers and us since the very start of Boxwalla: African Botanics Nutritive Molecule Serum and African Botanics Buchu Botanical Enzyme Polish. Read on to find more about the products, how we got to feature them in our Beauty Box, and also how to incorporate them products into your skincare routine.
This box, themed The Rhapsody of a Summer Dream, is currently available for purchase as a limited edition box.
What's in the Box?
✨Nutritive Molecule Serum (full size): A Vitamin C serum beyond compare, which, in addition to 3 forms of Vitamin C, also contains Ferulic Acid, Niacinamide, Resveratrol, Peptides, Yeast Beta Glucan, Oxidoreductase, botanical extracts of Resurrection plant, Swiss Apple, Azelaic acid and so much more!
✨Buchu Botanical Enzyme Polish (20ml, travel size): A beautiful, addictive exfoliating face polish, especially great for summer. It uses a combination of physical and enzymatic exfoliation and makes the skin clear, smooth and glowing.
Retail value: $270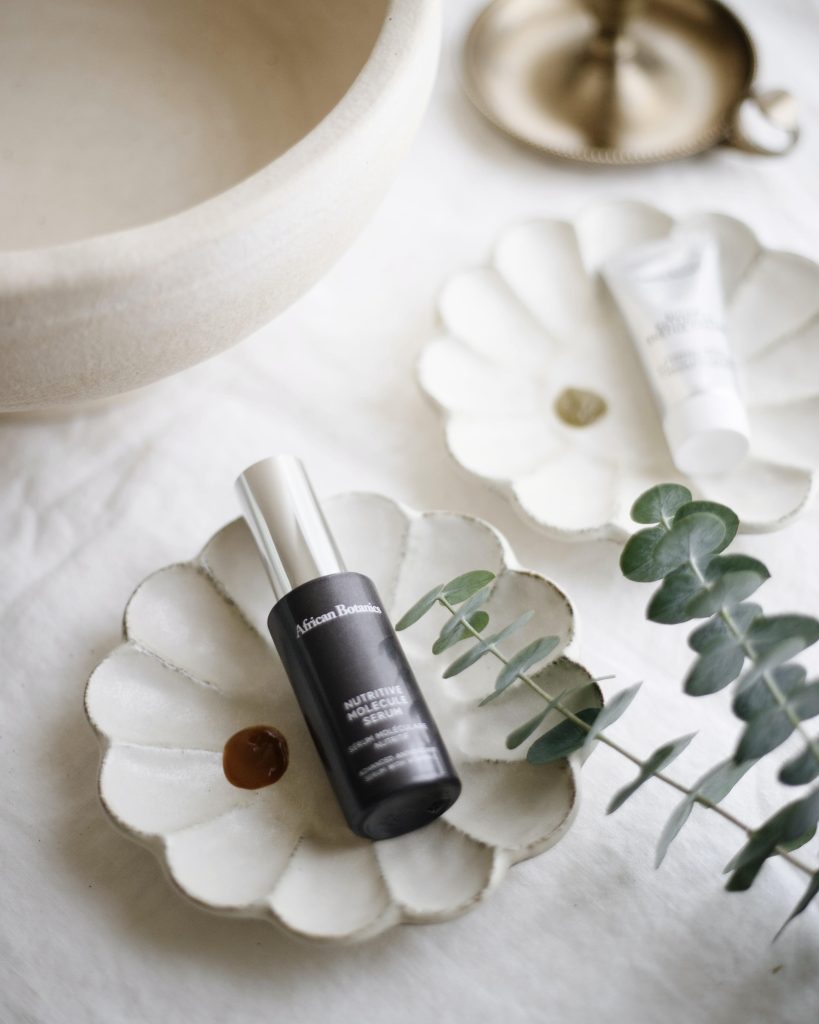 Nutritive Molecule Serum
The first product in this box is one Lavanya has loved and used for years. In fact, the African Botanics Nutritive Molecule Serum one of her favorite products from the brand and also one of her favorite products in this category. She'd been dying to showcase this dreamy potion for years so when the founders of African Botanics, Craig and Julia Noik, reached out to her asking if we would like to feature it, she was like: "Are you kidding me?!!! YES YES!!" This particular serum is also Julia's favorite.
It is a Vitamin C serum beyond compare. Made in a base of Aloe Ferox and Witch Hazel, this is an antioxidant, hydrating, protective serum that contains not one, not two, but three forms of Vitamin C that complement each other: Tetrahexyldecyl Ascorbate (THD), Sodium Ascorbyl Phosphate (SAP), as well Ascorbyl Palmitate. There's also Ethyl Ferulate (an ester of Ferulic acid), an antioxidant that soothes the skin while being particularly great at supporting the skin's defenses when it is exposed to UV radiation. In addition, this serum also contains Niacinamide (Vitamin B3), Panthenol (Vitamin B5), Peptides as well as extracts of the polysaccharide rich Resurrection plant and Swiss Apple, along with Resveratrol, Yeast Beta Glucan and so much more. It also incorporates a group of enzymes called Oxidoreductase that blocks different forms of oxygen from generating damage to the skin.
This serum can be used in the hydrating serum step, after cleansing and misting. The base of soothing Aloe Ferox makes this serum wonderfully hydrating. It includes Yeast Beta Glucan which is a skin humectant that, some studies have shown, can be 20% more hydrating that hyaluronic acid. It plumps the skin, attracting water to the top layers of the skin, which in turns helps decrease the appearance of wrinkles, redness and irritation. And the Resurrection plant is an extraordinary ingredient in this serum that helps with moisture retention, rich as it is in polysaccharides, polyphenols and trehalose sugar molecules that activate rapid hydration.
This rejuvenating serum protects the skin again the three main types of free radicals: those of oxygen, carbon and nitrogen, while also improving the skin's texture, brightening the skin, and helping address loss of firmness/elasticity.
There's so much to share about this incredible serum. Each ingredient is a skincare masterclass. So, to begin let's get nerdy and talk about the multi-pronged approach of using multiple forms of vitamin C in this beautiful serum.
A quick primer on free radicals
Free radicals are formed in the body when it is exposed to stress, environmental toxins, germs etc. These free radicals are basically unstable groups of atoms that are formed when certain molecules interact with oxygen (or carbon or nitrogen). The reason they are unstable and highly reactive is because they have unpaired electrons that need to be paired to regain stability. Thus begins the process of 'stealing' an electron from a neighboring molecule, leading to chain reactions that can ultimately lead to the disruption of a living cell. The body is able to combat free radical damage with antioxidants that neutralize these free radicals thus preventing this chain reaction. Oxidative stress is the imbalance between production of free radicals and the body's ability to to counteract them.
Vitamin C, as many of you already know, is a great antioxidant. The three forms of vitamin C used in this serum are:
✨ Tetrahexyldecyl Ascorbate (THD): This is an oil soluble stable ester of vitamin C. Enzymes within the skin convert it to pure vitamin C aka L-ascorbic acid. Since it's fat soluble it penetrates further into the skin and helps neutralize free radicals that may otherwise damage the skin's lipids. It also helps brighten the skin and helps preserves collagen.
✨ Sodium Ascorbyl Phosphate (SAP): This is a water-soluble form of vitamin C. Oil-soluble and water-soluble forms utilize different pathways to support the skin. SAP is effective at brightening uneven skin tone. It helps reduce discolorations and firm the skin. It has antimicrobial properties that makes it great for acne prone skin.
✨ Ascorbyl Palmitate: This non-acidic form of Vitamin C is particularly effective at reducing environmental damage and the palmitate portion makes it hydrating as well!
Buchu Botanical Enzyme Polish
The Buchu Botanical Polish contains sun-dried Buchu plant and crushed Baobab Fruit, which provide physical exfoliation along with fine granules of volcanic minerals. Buchu is a detoxifying and anti-inflammatory aromatic shrub that grows in the mountains and is one of the star ingredients in this face polish. It has been used by the Khoisan for centuries in both spiritual and medicinal contexts.
Then there's Microalgae extract that helps brighten the skin. Fruit enzymes from Papaya and Pineapple provide chemical exfoliation along with Lactobionic acid, which is a non-irritating acid belonging to the polyhydroxy acid (PHA) family. This polish also contains anti-inflammatory, hydrating ingredients like Aloe Ferox as well as antioxidants like Kigella and Rooibos. It is rich in camphor, diosphenol, diasmin and pugelone and boosts skin regeneration and reduces inflammation.
Says Julia Noik, "Buchu has a reputation for reducing free radical damage and for providing a strong defense against the effects of environmental stresses and UV exposure."
For those who are wary of exfoliating products, Lavanya has this to say:
"Now, as many of you know, I'm very conservative about exfoliation and I remember being slightly wary about the polish before I first tried it. But I needn't have worried- this polish that combines chemical/enzymatic and physical exfoliation is absolutely beautiful. I find it very addictive! I just can't stop using it and it gives me clear glowy skin! … If you have sensitive skin, I would recommend applying to the more sensitive parts of the skin without massaging it in. You can also mix in a bit with a creamy/clay cleanser like African Botanics' creamy clay cleanser."
A Sample Morning Skincare Routine
This is one way the products of this box can be used in a daytime routine, along with other skincare products featured in the skincare subscription boxes and our Beauty Store:
🌿 Cleanse with the lush new cleansing cream from Votary London. It works beautifully as both the first or second cleanse.
🌿 To damp face, massage a pea sized amount of African Botanics' beautiful Buchu polish. Leave on for 1-2 mins and rinse off.
🌿 Apply a mist, essence or toner.
🌿Apply 1-2 pumps of the amazing Nutritive Molecule Serum.
🌿 Massage 1-2 drops of Lovinah Skincare's Vitamin C oil while skin is still damp.
🌿 Seal it all with Votary's indulgent Natural Glow Day Cream.
🌿 Slather on Bloomeffects' addictive sunscreen!
What Are Subscribers Are Saying about the Box
We've received some fantastic feedback for the box, that includes statements like "This formula is magic." One of our beloved subscribers said: "Love the June box. Is it possible to buy two more boxes for each of my daughters? It's so special."
"Nutritive Molecule Serum is one of my favourite Vitamin C serums. A thin, creamy texture that sinks in effortlessly and is such a fantastic rejuvenating and protective treatment. It does a brilliant job at brightening and firming." – Gillian, @growintoyourglow
"This has been my absolute favorite thing I have ever received. Best exfoliant and smells magical. When the strike is over, I'm buying a full size." – A Happy Subscriber on the Buchu Botanical Enzyme Polish
"I actually noticed an immediate difference after one use of the serum! Skin looked plump, smooth the next day."- a lovely Subscriber on the Nutritive Molecule Serum
"An exquisite ingredient list finds Tetrahexyldecyl Ascorbate at the top…Coupled with Sodium Ascorbyl Phosphate and Ascorbyl Palmitate, this trio delivers super effective and potent Vitamin C for antioxidant protection, wrinkle-reducing properties, a collagen boost, and brightening effects…Could they be any better? The formula is magic! Everything my skin could possibly desire."- Denise, @clayandessence
If you'd like to experience The Rhapsody of a Summer Dream, the African Botanics box is available for a limited time here.